By Amanda-Joy Lee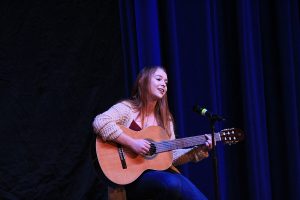 Interact Club held their annual talent show showcasing some of Coronado's best talents on Friday, Jan. 25 in the theatre. Students auditioned on Nov. 27 and Dec. 11, where President Jasmine Mortero and adviser Ms. Johnson decided who would perform.
"I was excited to see a lot of amazing performances," Alexander Lea, 10, said. "It's amazing to see so many talented members of our community showing off their talents."
Tickets were $7 at the door, and there was also a raffle to win a $25 visa gift card. All proceeds went to Heifer International, a non-profit organization that aids countries to eradicate poverty and hunger. They also distribute livestock and provide agricultural training to families so that they can be self-sufficient.
"For as long as I've been adviser, Interact Club has always donated to Heifer (International)," Ms. Johnson said. "I think one thing to look forward to is the amount of sheer talent from the show."  
Opening at 6 p.m. multiple talents performed. Notably, senior Jaeger Lefer did an impressionist comedy routine, sophomore James Gattone danced, and sophomores Nicole Bratu and Jina Umakanthan played a piano duet.
"I enjoy making people laugh," Lefer said. "I've improved my comedy and impressions overtime, so I'm glad I could make people laugh."
There was also an appearance from the Green Mild Bell Peppers, an alternative rock band made up of sophomores Nash Cadwell, Tyler Sheesley, Ashton Boyer, junior Vincent Seacroes, and middle schooler Katielyn Sheesley. They played "Sweet Child O' Mine" by Guns N' Roses.
"We're always nervous before, but once the crowd started cheering we always get hyped," Tyler Sheesley said. "We always like performing in front of a crowd, and hopefully we get more opportunities to do so."
The talent show is an opportunity for students to showcase their talents, so don't forget to look out for next year's show and auditions.
"It was very stressful and very time consuming," Mortero said. "It's a great experience though, especially since I performed in it, and I think everyone should watch it next year."