By Lulu Clemmons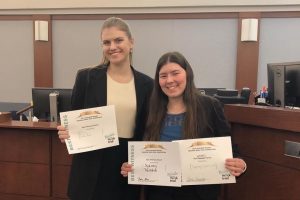 The Mock Trial Club competed in a tournament style court case on Saturday, Feb.9, which took place at the Regional Justice Center. Senior Sasha Bolla won an award for best witness, and senior Sydney Szostek earned two "best witness" awards as well.
"It was really cool being able to win something," Szostek said, "We're still a new club and have a lot more to prove, but the awards we received are a step in the right direction."
After being given a civil case about religious discrimination, the club prepared both the prosecution and defensive sides of the case in preparation for the tournament. The event is designed to allow students to experience what a real trial might feel like. At the end, each school is scored based on their opening statement, direct and cross examination, witness performance, courtroom decorum and closing argument. Although Mock Trial didn't place, they were still awarded a participation plaque.
"We learned a lot, and we are excited for next year to apply what we learned," club advisor, Ms.McAfee said. "Experience is the best teacher."