By Izzie Thornley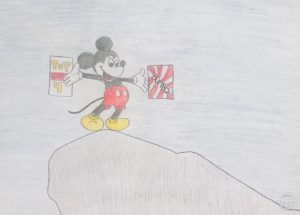 Walt Disney always strove for bigger, better, newer and more out-of-the-box ideas, and his "Imagineers" took over this important job once he passed. However, without his creative mind, the Walt Disney Company's first downward spiral was known as the "Bronze Age" (1970-1988): when the company produced low quality, forgettable movies such as "The Aristocats" (1970) and "The Rescuers" (1977). Although those movies are some people's beloved favorites, they still sucked. Luckily, Disney had a strong come-back during its Renaissance Era (1989-1999), releasing creative musical fairy-tale based films such as "The Little Mermaid" (1989) and "Beauty and the Beast" (1991). Since that decade of creativity, Disney has not been able to get back to those glory days.
The latest Disney craze is updating former animated movies into supposedly improved "live-action" versions in which the filmmaking involves real people or animals rather than animated characters. Currently, classics like "Dumbo" (1941), "The Lion King" (1994), and "Lady and the Tramp" (1955) are getting ready to hit the big screen. This recycled idea completely disregards Walt's dreams for a continuously innovative company. Seriously, how are they supposed to make these talking-animal-based movies "live action?" It's not like directors can find a baby elephant with awkwardly large ears and then train it to fly, nor can they get a Cocker Spaniel and a mutt to fall in love while sharing a bowl of spaghetti and meatballs at the boujiest of Italian restaurants. These films are not actually "live action;" rather, they just look somewhat realistic thanks to impressive advances in computer animation. These movies simply flex Disney's billion-dollar animation software if anything.
The teaser trailers for these revamped movies aren't hitting it off with audiences the right way either. Since the trailer for "Aladdin" debuted during the 2019 Grammy awards, people have been practically begging for the genie (Will Smith) to fly back into his lamp. Looking like the male version of Violet Beauregarde from "Willy Wonka and the Chocolate Factory" (2005), Will Smith is trying too hard. It's not easy to fill the magical shoes of someone like Robin Williams, but don't disrespect him like this. With that out of the way, can we talk about how hot Aladdin (Mena Massoud) is? Disney took every girls' favorite prince, found him in real life, gave him a loaf of bread and three wishes, and bam meet your newest heart-throb. He makes us kind of have to see the movie even if we don't appreciate the abomination that is Will Smith as Genie.
With all these "live-action" movies in the making, Pixar Animation Studios, Disney's smaller, slightly more imaginative side that they bought back in 2006, distracted viewers from their lack of new ideas by coming out with "Incredibles 2" 14 years after the original. I must admit that "Incredibles 2" was a pretty good movie that allowed me to time travel back to my childhood, but it didn't deserve the hype Disney gave it. Along with remaking and renewing movies, Disney is also following this trend by altering classic rides and masking them as screaming advertisements for their latest films. I mean they ditched the best ride at Disney's California Adventure, "California Screamin," just so Mr. Incredible could be plastered over the entire new "Pixar Pier" prior to the movie's opening night. Perhaps the superheroes should come out of hiding because everybody wants the classic rides to be saved.
Speaking of the new "Pixar Pier" at Disney's California Adventure, "Toy Story 4" will be released in June, after "Aladdin" but before "Frozen 2" of this year. The "Toy Story" trilogy was finished off perfectly as fans of all ages were left full of nostalgia, peace, and the realization that despite what other Disney figures like Peter Pan may claim, Andy will grow up just like everybody else. The "Toy Story" franchise was the perfect amount of bittersweet, but Pixar decided they needed to mess it up. They couldn't just let it be. The newest plotline follows Woody, Buzz and the gang as they go on a road trip and meet… a plastic fork. Sadly, I'm not kidding. Flatware. Parents everywhere are buckling up their kids to spend 50 bucks from their weekly budget to take them to see two hours of talking utensils. If people really wanted this, they would've just taken their kid to see the live-action remake of "Beauty and the Beast" (2017). Emma Watson might not have the best voice, or let alone a bearable voice without auto-tune, but at least silverware made sense in her movie.
The Walt Disney Company has always been the organization focused on going to infinity and beyond to entertain both adults and children alike, but now, they are lazily making quick, fast movies for some quick, fast money. The Imagineers might be running out of ideas, but they will always know how to manipulate their audiences to maximize Disney dollars. Fans of the franchise run on nostalgia, so by remaking these classics, parents are sure to bring their children to share the revamped version of their favorite movies. Even if I might not want to admit it yet, you'll still find me waiting outside in the scorching hot line with my younger siblings for tickets to "The Lion King" this summer.