By Samantha Catalano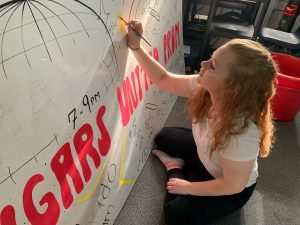 Cougars United is hosting a prom in the gym on Saturday, May 4 from 7:00 p.m. to 9:00 p.m. The theme is Silent Disco, and attendees will wear headphones to listen to the music. Students who want to attend the Cougars United prom can buy a ticket at the Web Store or from Mr. Manning in room 214. Tickets are $10 before May 4 and $15 at the door.
"I can't wait for the Cougars United Prom," junior Keeton Lord said. "It's hard to not have fun in a place full of loving, inclusive and happy people in a party space designed for you to just be yourself."
The idea for the theme spurred to life from the clip seen on the Netflix Original Series "Atypical." Every person will receive a pair of headphones to wear, containing the noise for those who are more sensitive to sound.
"The Silent Prom is going to be a night to remember," senior Vice President Morgan Basile said. "Special needs students and general-ed students can come together for our annual dance."
Cougars United helps students with special-needs get involved with school activities. Club and board members have been planning and fundraising for the event the whole school year. The semi-formal night is meant to involve, include and connect all students.
"Prom will be full of a lot of dancing and smiles," senior President Vincent Lepore said. "It will be a night that nobody will forget."