By Riley Cable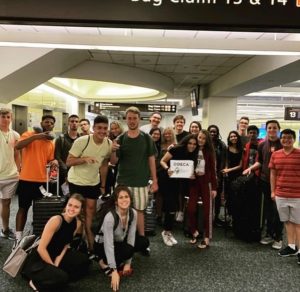 After placing fourth at their competition in February, Distributive Education Clubs of America (DECA) students, traveled to Orlando, Florida for the International Career Development Conference on April 27-30. Qualifying students from Coronado, along with 18,000 other students worldwide, competed in their chosen events. This year Coronado had the most international qualifiers they have ever had with 24.
"My event was IMCS (integrated marketing campaign service), and while I wasn't a finalist, I was definitely interested in the competition and enjoyed the experience," sophomore Keji Ajayi said. "Now I know that I have to work on presentation skills, better budgeting and money handling."
ICDC is an international conference, and Coronado had three finalists this year: senior Andre Menzies, senior Xavier Avila and junior Neha Sarango. Sarang ranked in the top 20 internationally for her event, professional selling.
"I was originally really not into DECA or my event," said Sarang. "After experiencing my victory as first place winner during state, I pushed myself to keep studying and improving on my project. The next thing I knew, I was up on stage."
In between the hectic conference, DECA found time to enjoy Orlando and what it had to offer. The team spent a day at Universal Studios and bonded in the hotel during their spare time. Still, the majority of the trip was spent competing and learning at the event.
"I did sports and entertainment team decision making," sophomore Sanjay Shankar said. "I faced challenges such as not being prepared for the test portion of the event because of lack of resources. Hopefully next year we get resources that help us get much better every year."