Varsity Softball
By Bryce Becker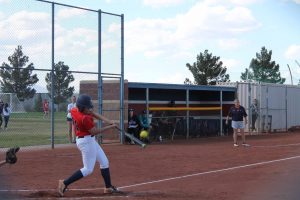 Varsity softball defeated Desert Oasis 11-5 at Desert Oasis on Tuesday, April 30. The Cougars came out strong in the first inning scoring five runs and held the lead for the rest of the game. Junior Tori Jones (#11) led the Cougs to victory with two home runs while senior Madison Stephens (#8) contributed with two RBI's.
"We're preparing for regionals in a lot of ways," sophomore Willow Bachiochi said. "Mentally and physically of course but especially by not taking the teams lightly. Everyone is fighting to be on top, so we always have to be ready for anything. Staying positive and picking each other up is essential to winning games."
The Cougars destroyed the Liberty Patriots 11-1 at home on Wednesday, May 1. The Cougs ended the season 12-0 in league and play their first playoff game at home today at 4:00 p.m.
Men's Varsity Baseball
By Matthew Eskridge
The men's varsity baseball team lost to the Desert Oasis Diamondbacks 2-10 on Tuesday, April 30. The Cougars scored in the first and seventh inning while the Diamondbacks scored two or more points in almost every inning.
"We should build off of last week's mistake and come out strong today," sophomore Erik Dramm said. "I hope the game goes well, and there's a good outcome for future playoff games."
The Cougs went up against Liberty on Wednesday, May 1 but came up short 3-4. The Cougars were up by two in the sixth inning until Liberty scored two runs in the final inning forcing overtime where Liberty won the game.
Varsity ended their season 18-14 and have advanced to the playoffs today at Basic.
Men's Varsity Volleyball
By Ryan Kelleher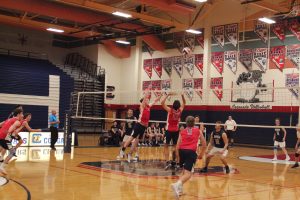 The men's varsity volleyball team swept the Green Valley Gators, 25-21, 25-18 and 25-15 at Green Valley on Tuesday, April 30. Freshman Jacob Ceci (#7) had 17 kills while senior Randy Cowles (#10) contributed with 15 kills. Senior Alex White (#3) earned 36 assists.
"Green Valley is one of our rivals so beating them in their gym was a great feeling," sophomore Slater Fuhrman said. "As we head into playoffs, we have to remember that every point and every play matters."
Varsity defeated the Foothill Falcons, 25-15, 25-21 and 25-19 at home on Thursday, May 2 in the final league match of the season. Junior Alex Winiarczyk (#9) had nine kills and one ace against the Falcons. The Cougs went undefeated in league with a 12-0 record. Their first playoff game is at home on Wednesday, May 8 at 6:00 p.m.