By Izzie Thornley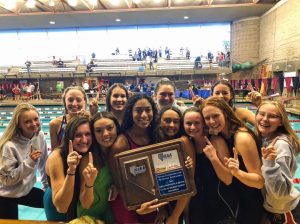 The men's and women's varsity swim teams won the Desert Regional Championship meet on Friday, May 10 at UNLV after having undefeated dual meet seasons. Swimmers started their competition with Regional Prelims on Tuesday, May 7, and the top 16 qualifiers from each event continued to Regional Finals on Friday. At Prelims, junior captain Jared Miao beat the men's 100-yard breaststroke school record obtained in 2012.
"Overall, Regional Prelims were a huge success," Miao said. "Together, the men's and women's teams got second by one point, but I think that made everyone ready to step up and swim fast during finals."
After placing second to Green Valley last year, the men recovered by winning 252 points to the Gators' 244 this year. Individual first-place scorers were Miao for the 100-yard breaststroke and junior Michael Luna for the 100-yard freestyle. First places for the 200-yard medley relay and 200-yard freestyle relay also helped the men rack up points against their rivals. The women scored 449 points while Green Valley placed second with 265. With the help of a team full of underclassmen, the women obtained their fourth consecutive regional win. Defending State Champion sophomore Pilar Cohen placed second in both the 50-yard and 100-yard freestyle, and sophomore Ellis Sondrup crushed the 2006 school record for the women's 100-yard breaststroke.
"Regionals turned out really well in the end for Coronado, but it was kind of a rollercoaster," Sondrup said. "Although the girls had it in the bag, the boys were constantly switching leads with Green Valley which made every event count. I'm so proud of our team for pulling through with two regional titles."
The top three swimmers from each event at Regional Finals advance to the 4A State Championship meet on Saturday, May 18 in Reno. Cohen and freshman Kylie Beaudet along with the athletes on each of the relay teams are set to swim for the women's side. For the men, Miao, Luna, freshman Daniel Nikoloff, junior Spencer Wilkinson, senior Jalen Tsuchiyama-Sando and relay team members are ready to compete for titles.
"The team really stepped up at Regionals, especially during the finals session," Coach Stump said. "We are hoping that we can continue to improve and swim and dive even better next week at the State Championships."