By Bryce Becker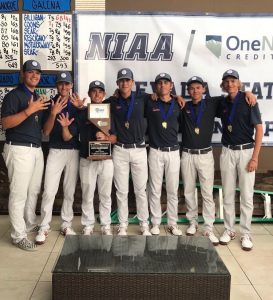 The men's varsity golf team won their second consecutive class 4A state golf title at Sommerset Country Club on Tuesday, May 14. With a par of 72, the Cougs beat out the competition scoring 583 points in the two round tournament. Senior Michael Sarro helped the Cougars pull ahead of Galena High School with a birdie on the playoff hole while also clutching the individual title. Junior Benjamin Sawaia scored 72 in the first round and 73 in the second to take third in the individuals while fellow senior Joey Dotta followed behind in fifth place with 146 points.
"I went into regionals and state with the mentality that we were going to win, and I had confidence that myself and my teammates could go up there and bring home the trophy," Sarro said. "It felt great to beat Galena in the playoff, no better way to end my high school golf career."
Before the Cougars state title triumph last year, there hadn't been a state win since 2012 making this years win all the better. The Cougs qualified for the 4A state tournament last week on Wednesday, May 8 when they defeated Bishop Gorman and Foothill in the 4A Desert Region tournament at Reflection Bay golf course. Freshman Brett Sawaia scored 69 in the first round and 70 in the second round on the par 72 to break the tie with Foothill and take the win.
"This win felt fulfilling because I knew that the team and I worked very hard all season and we got the win and kept our undefeated streak," Brett Sawaia said. "It was pretty cool because there is a very small list of freshmen to ever win regionals and I was able to put myself on that list this year."