By Bryce Becker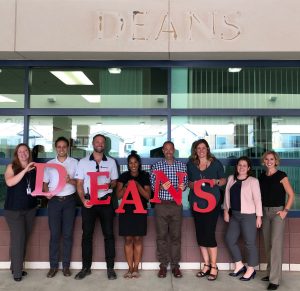 After previously eliminating all dean positions in June, then reinstating the positions, CCSD gave principals until 2021 to phase out all deans from middle and high schools across the valley. At Coronado, Principal Piccininni promoted previous deans, Mrs. Davenport and Mr. Kalinowinski, to assistant principal positions. Other Clark County schools offered vacant teaching and administration positions to the recently dismissed deans.
"The purpose of changing the deans' job to an assistant principal job was to ensure that we had the proper control of the position to select the best people for the job," Piccininni said. "As opposed to having someone assigned to the job which may have not demonstrated the same success."
On Monday, June 10, CCSD Superintendent Dr. Jesus Jara released a video providing the details of the cutbacks, which had come as a counter to the earlier legislative meeting that left the district with a 17 million deficit for the coming years. By cutting the dean positions, not only does it fill the deficit, but it leaves around 4.5 million in savings for next year. 
"Due to the inability to achieve a fully funded operational academic budget for the next two years, the most difficult decisions had to be made," Superintendent Jara said. "In order to find substantial cost savings and allow the district to continue forward without cutting too significantly to any specific program, dean positions at all middle and high schools will be eliminated indefinitely. It is our hope that we will be able to retain many of the 170 outstanding members of our family by repositioning them back into the classroom."
With the dean positions eliminated at Coronado, tasks such as attendance and discipline will still be fulfilled but under the responsibility of another position of administration. Davenport and Kalinowinski will still be helping with attendance and discipline while also completing other assistant principal duties.
"With the elimination of deans, the dean's office really doesn't exist anymore," Davenport said. "We're thinking about how we can restructure this office so that we can offer kids more support and services in here."