By Roby Tan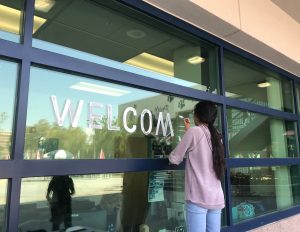 Community service clubs such as Key Club, Student Council and National Honor Society (NHS) encourage high school students to actively participate in serving others and develop into leaders. These clubs aim to offer services beneficial to the community such as cleanups, food drives and more.
Key Club is a great way to give back to the community and to meet friends from different schools or districts. An annual event is the "Peanut Butter and Jelly-athon." The club caters to feeding the homeless, raising money for charities like the Pediatric Trauma Program, and contributing volunteer work at festivals and charity runs. Each member must obtain at least six club hours and six personal hours of service per academic quarter but more is always encouraged. One of Key Club's upcoming events is the Regional Training Conference on Oct. 26 where members can attend service and leadership workshops in order to learn more about the club. If a student becomes a member for two years and completes the required hours, he or she is eligible for the banquet at the end of that year for induction, and they receive a cord for graduation. Key Club meetings are held in Room 200 on Thursdays after school.
"There are a lot of service opportunities that we host as a team, so it is never difficult to attend events and serve your community," junior Fiona Dimailig, president of Key Club said. "There are leadership positions available at club, division, district and international levels. Scholarships are exclusively available to Key Club members."
NHS members develop character and leadership as they put in time and effort. They participate in fundraisers to raise money for various charities. Membership is exclusive to juniors and seniors. Juniors must complete 14 hours of community service per quarter. Seniors who are returning members need to complete eight hours while incoming seniors need to complete 22 hours. They earn these hours through volunteering or participating in events organized by the NHS officers. Members may participate in events ranging from helping an elementary school event run smoothly to picking up trash in a local park. Members receive a cord if they meet the required hours. NHS will also be helping with the annual AP Academy's Zombie Festival this year in October. There are four meetings held every month in room 902 on Fridays.
"Students should join NHS because it aims to better not only our school but our community as a whole," senior Robert Britt, president of the National Honor Society said. "By being a part of this club, students are not only able to collaborate and volunteer with peers of similar interests, but also they can make a meaningful impact while doing so."
Student Council (StuCo) allows students to be more involved in school events and offers countless opportunities to serve the student body. StuCo organizes school events such as spirit weeks, formal and casual school dances, assemblies and more. Some ways to grow as a leader in the community are to participate in state and zone conferences for leadership workshops and sessions. If the year-long commitment of StuCo class is not for you, the school offers StuCo Club where students can help organize or set up before an event. A two-year membership in the club could get you a cord for graduation.
"As secretary of the student body for three years, my role is to share my knowledge about the club and to pass down my responsibilities of serving my school and others to aspiring members and officers," senior Alysha Nguyen said. "I encourage other students to be a part of the student council because I made a lot of good friends through StuCo."
Serving the community leaves an impressionable impact in the community, and this enables students to serve those who need it the most. Giving back promotes volunteerism and selflessness for the leaders of tomorrow.