By Valerie Perez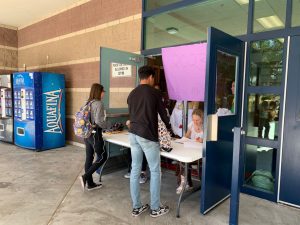 'CHS Back To The 2000s' spirit week brings back the elements many of students have grown up with. Days are inspired by well-known shows and movies like "Suite Life of Zack and Cody," "High School Musical" and "Mean Girls." Oct. 14-18, students can participate and dress up to earn a treat during lunch.
"I think setting up for spirit week is pretty fun and is definitely for the greater good," sophomore Jacob Saletta said. "Although it can be quite difficult at times since StuCo takes up a majority of the time. The hard work pays off and ultimately it's worth it in the end."
Monday, Oct. 14
Students can roll out of bed to school in pajamas for "nick @ nite" Day. At both lunches, StuCo will give out mini cinnamon rolls in the quad. 
Tuesday, Oct. 15
Match with your best friend for "Twin Day," inspired by the well-known show "The Suite Life of Zack and Cody." Together, you and your twin can go to lunch and receive a free fruit roll up.
Wednesday, Oct. 16
Wednesday's we wear pink to support breast cancer awareness month. Blow some bubbles with bubble gum when you get your treat for showing awareness. 
Thursday, Oct. 17 
The feud between bikers and surfers is on. Dress up with a leather jacket, or a lei matched with a Hawaiian shirt. Different flavored otter pops will be given out at lunch.
Friday, Oct. 18 
Show spirit by wearing CHS gear for "High School Musical Day." During lunch, there will be a BBQ with StuCo students giving out free hot dogs along with silly bands if wearing any gear.
"The StuCo team has worked really hard to prepare for homecoming," senior Emma Guero said. "They have to make flyers, call for donations for food to give out to students and do advertising. It is difficult at times but worth it in the end. Our overall goal is to make the week enjoyable for all students and staff to create a positive and prideful atmosphere at school."
On Tuesday Oct. 8, StuCo is giving out free homecoming shirts to wear at the assembly. Bring your student ID to the gym during both lunches or after school.
"I'm happy I got a shirt for free," sophomore Summer Raines said. "It was very convenient for me to come up to the gym and receive my shirt because StuCo had everything organized."