By Maya Fankulewski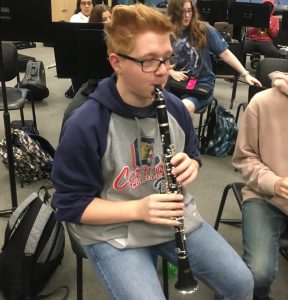 Those in band know Junior Xander Endre as "the babysitter" because he's always helping his friends and making sure they understand each piece of music. Endre is an intelligent and hard working junior that fills his time playing the clarinet and coding in AP computer science. To add even more to an already busy schedule, he's in Spanish III and has an internship at a computer tech place called Code Central. 
With marching band practice every morning before school, Endre has a pretty busy schedule. According to Endre, who is apart of symphonic band this year, he likes band because "it's really easy to make new friends because we all have something in common." The seven year band student plans on staying in marching band until he graduates high school. His goal is to get into Wind Symphony band, which is the most advanced band at Coronado.
"Xander is a really good student; he wants to learn, and he's great in class," AP computer science teacher Mr. Underwood said. "He's hardworking, social and also has a computer job where he teaches younger kids coding."
One of Endre's many talents is his skills with computers. After taking computer science last year, he's now in AP computer science. On the side, Endre teaches children different levels of computer science and works five days a week. In an average week, he works over 20 hours. This internship is only a start for Endre as he plans to pursue a career in computer science.
"Xander's really good with coding," freshman Celia Patterson said. "He's hacked into my phone multiple times now." 
Xander also dedicates time to learning spanish, which he has been doing since freshman year. He enjoys speaking and learning Spanish with his friends. 
"I have a lot of work, so I have to be good with how I spend my time," junior Endre said. "There are so many funny and crazy people I met in marching band and computer science. It makes me feel successful when I learn and teach coding because it gives me a chance to look into future careers."