By Madison Kitch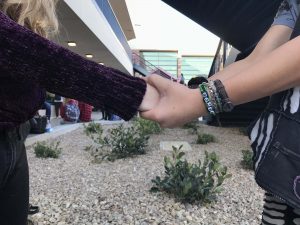 With the recent arrival of cold weather, it's hard to ignore the change it brings. People begin preparing for the holidays, coffee shops reintroduce hot chocolate and cider, and it seems everyone is coupling up. The former two are expected and appreciated, but the latter is known as cuffing season.
"I'm absolutely more flirty in the winter," Gianna Ortiz, sophomore, said. 
Cuffing season first makes its mark in October with cute fall dates, like an Instagram-worthy orchard picking session. The six-month romance usually ends around March, so new singles can flirt freely over the summer. This allows for people to be "cuffed" during the coziest time of the year, but single during the hotter months, so they can participate in "hot girl/boy summer."
Cuffing season is based on the idea that people (similar to bears) like to "mate" or get together once the temperatures drop. Data from Facebook showcased that people tend to change their relationship status to "taken" October through April and "single" for the remaining months. The data is separated into three categories based on age, but the facts are the same across the board.
According to the NPR Podcast 1A, social psychologist Dr. Justin Lehmiller states that there's an obvious trend in Google searches during December and January relating to dating websites, including Match.com and OkCupid. While these searches are a little late for the traditional cuffing timeline, they still fall under the metaphorical umbrella.
"I'm single right now, but I think I want a relationship more in the winter," Wyatt Wolanzyk, freshman, said. "It's just nice to have a Halloween boo."
Cuffing season also involves natural, biological urges. Studies have shown that serotonin (a chemical released by your brain to make you happier) levels drop in the colder, winter months and tend to rise again in the spring and summer. Many people may be looking for something–or someone– to add joy to their life. 
On an even deeper biological level, "cuffing" may go back to the caveman days. According to Charles Darwin's classic "survival of the fittest" theory, only the best survive. That being said, a cold winter could kill someone, so couples in the caveman era that got together (and had offspring) had better chances of surviving and keeping their gene pool alive. People that didn't mate during the winter had a higher chance of dying. A season now dedicated to cute dates may stem from literally just wanting to survive.
It's easy to base this season on weather, but with societal pressures, many rush to "cuff" someone. It's no coincidence that cuffing season falls around the holidays when most people are going home for Thanksgiving and Christmas. This leads to the dreaded questions from family members about "why you haven't met someone yet." Obviously no one expects high school students to be married at 16, but your grandma constantly commenting on it can get tiring.
"Winter is just a season where you want to be in a relationship," Katie Erickson, junior, said, "It seems cheesy, but the cuddly wintertime dates are always so cute."
Relationships can start year-round, but people should question why they want a relationship right now. A long-lasting relationship is nice, but make sure it's genuine? Or is it because of societal pressures and familial expectations? It's okay to have a cute cuffing-season romance, but just make sure it doesn't go too far.