By Lorin Alukonis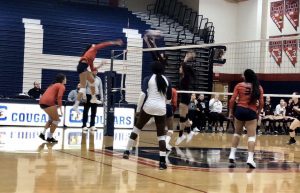 Women's varsity volleyball celebrated a win on Senior Night at home on Thursday, Oct. 31. The Cougars played against the Desert Oasis Diamondbacks and won in four sets, 21-25, 25-20, 25-20, 25-21. 
"Senior night was super fun and nerve-racking because it's a build-up of all the years I've played at Coronado," senior Natalia Tollestrup said. "My best friend and I had a lot of energy and incentive to play our hardest because it was our last game and the end of playing together for almost six years."
Tollestrup finished the season with 107 kills and 37 blocks. Senior captain and setter Dallas Balaney-Flores accumulated 32 aces, 128 digs and 542 assists during conference and away games. Against the Diamondbacks, senior Sara Arroyo led the team with 22 kills, 12 digs and 12 serve receive passes.
"The senior night game was different from any other game we played this season," Flores said. "For me, it was my last home game and all the girls brought so much energy and we all played our hardest, not only for the seniors but for each other. Overall, my last four years playing volleyball at Coronado has been unbelievable. The coaches and girls have made this experience such a positive and heartwarming one. I'm sad to leave this program but I know it will do great things in the future."
The seniors have accomplished incredible amounts during their stay at Coronado including academics, athletics, and affect on the younger classes for their time being.
"Senior night was so special to me, I got to do the speech for senior Dallas Flores," sophomore Ashli Dean said. "She is by far one of my favorite people in the world and so are Natalia Tollestrup and Sara Arroyo. They have all been there for me and made me laugh. My favorite memory with them is when we were in the LVI tournament and all three of them were screaming so loud and were so hyped for each other."