By Ryan Kelleher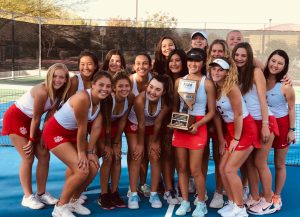 Both the men's and women's varsity tennis teams earned second in the Class 4A State Tournament on Wednesday, Nov. 6. The women's team lost to the Palo Verde Panthers 5-10 while the men's team lost to the Panthers 2-10. 
"We had a great season, but it's upsetting to make it so far and lose," junior Ian Hawkes said. "We still won regionals and have some banners to hang in the gym."
Prior to the state championship game, the women's team beat Faith Lutheran 10-6 in the Class 4A State Semifinals on Tuesday, Nov. 5. Men's tennis crushed Reno High School 10-3 in the semifinals on Tuesday, Nov. 5. Both teams won the 4A Desert League Regional Title. The women's team won the 2017 and 2018 State Championships while the men's team has made a playoff appearance every year since 2005. 
"My last four years on the tennis team have been incredible," senior Sebastian Fraez said. "I've made some amazing friends and created unforgettable memories on the team."
Senior Megan King and junior Sidra Wohlwend won the Individuals Doubles State Championship on Thursday, Oct. 24. The two defeated the best doubles partners from across the state and were awarded with a trophy and medals. 
"It was an amazing feeling to win the doubles championship with Sidra," King said. "The two of us have been practicing and working together really hard all season. I loved how it all paid off in the end."