By Riley Cable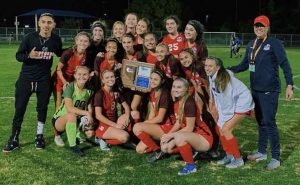 Women's varsity soccer secured the Class 4A Desert League Regional Title at Bettye Wilson Park on Friday, Nov. 8. After a tough fight during the game, the Cougars came out on top with a 4-1 win against the Desert Oasis Diamondbacks. Despite missing a portion of their team, the Cougars remained in good spirits and put forth their best effort. 
"When we won, it was really exciting," sophomore Avery Skinner said. "I was so happy and having all the hard work pay off was very satisfying. Winning with a group of girls who are like a second family made it so much better."
Throughout the week, the team fought hard to make it to the finals. Beating Sierra Vista 7-0 and Gorman 3-0, the team was on a streak before their game against Desert Oasis. With two goals from junior Simone Hottentot, one goal from sophomore Alexis Pashales and one goal from Sophia Chura, the women took the lead against the Diamondbacks.
This year, the state playoffs are held in Reno. Their first game is on Friday, Nov. 15 and depending on the outcome of that game, they could have another game the following day. 
"For state, we plan to play how we have all year long with hard work and purpose," Skinner said. "As long as we play together as a team, no one can beat us."
Men's varsity soccer lost 0-1 to Bishop Gorman in the Class 4A Desert League Regional final at Bettye Wilson Park on Friday, Nov. 8. The Cougs played a close game but couldn't recover after the Gaels scored. The Cougars then played Las Vegas in a tie-breaker game to determine who advances to state playoffs. After a 0-3 defeat the Cougs season ended.