By Kiley Brown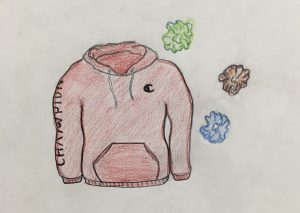 In this day and age, everyone has seen at least one cheesy romantic movie, it's inevitable, especially for teenage girls. These make believe love stories give a false sense of hope for our high-school love life. Growing up on Disney Channel Original Movies, we all expected to have our practically flawless first boyfriend, you know the tall blonde varsity jock (preferably varsity football), yet here we are still waiting for a Troy Bolton. Even if these real-life relationships don't include picture perfect prom proposals and the high school nerds and jocks coming together for a musical number, girls can still look forward to wearing their crush's hoodie this winter because luckily that's not too far out of this universe. Boys, listen up, because if you're truly ready for cuffing season, hand over that jacket and start fighting for that scrunchie. 
To start, we understand that writing love letters like Lara Jean to Peter Kavinsky in "To All the Boys I Loved Before," is sadly unrealistic and more importantly, a bit stalkerish. However, the key to starting this relationship off is asking that special someone for her Snap. Sure, you might think beginning a streak is a "middle school" move, but it's an easy way to start talking everyday and stay in contact with your scrunchie prospect. Seeing your name pop up on her phone gives her a subconscious reminder about your existence, and it's basically proven to get her to fall in love with you. As you progress forward, girls may even send a selfie to get your attention, hint hint.
Now, the power moves come into play: the scrunchie and the hoodie. You're in class, she's cold, at least you think she is. This is the most crucial part of starting up a relationship. Give her your jacket, I don't care if your English teacher keeps the AC at negative nine degrees, give her your jacket. This easy enough move shows whether you made the cut or if you are stuck in the never-escapable friendzone. If she returns the favor with a scrunchie, that means ask her out. Shooting your shot has never been easier. Scrunchies complete every girl's look so she'll feel incomplete without it on her own wrist, however, the infamous hoodie — preferably drenched in cologne — will make her feel more secure.
Wearing and being gifted a girl's scrunchie is an extreme privilege and should never be taken for granted. It shows that you are off the market to others and constantly remind you of your significant other. If you're fortunate enough for this to happen to you this year, pay attention to your girl because she will always overthink, it's just part of her DNA. But, for the love, please keep the "11:11" posts to a minimum, it's just plain cringy.