By Valerie Perez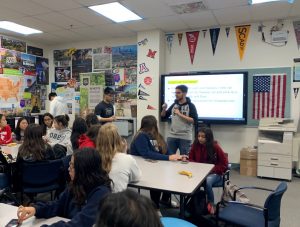 Future Medical Professionals (FMP) Club will hold a blood drive periods one through five located in the auxiliary gym on Thursday, Dec. 12. Blood donations are accepted from students and guardians who are 17 years or older.
"Our club tries really hard to ensure that the blood drive and it's processes are as stress free and efficient as possible, as we know that the whole thing can be really nerve racking for some," senior Daniel Kyong, Vice President of FMP said. "I really think that the overall experience reflects how gracious we are to our donors and their willingness to save the lives of hundreds of patients nationwide."
Students who plan to donate and are under 18 are required to have a permission slip with a parent signature and sign-up online. The College and Career Center has the required permission slips. Students are asked to confirm their coordinating weight to height ratio. If for some reason students are not up to adequate height and/or weight, they will not be allowed to donate for safety reasons.
"I feel when people donate blood they're giving a life since every donation can save up to three lives," sophomore Arlette Reyes, blood drive director, said. "The blood drive is a good cause, and I believe everyone who can donate should."
After students confirm their time of donation, they will be excused for attendance during the time spent donating. In the auxiliary gym, there will be workers from the United Blood Drive and FMP members to collect permission slips. After checking in, nurses will call in students to start drawing blood. If needed, there will be food and drinks available.
"Last year, Coronado collected the most donations out of the whole district," senior Saad Chowdry, President of FMP, said. "We hope to get just as many donations or even more and get number one again."