By Oliver Van Aken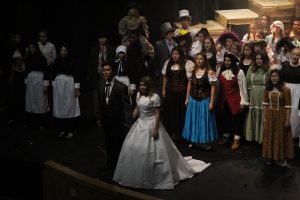 Theatre produced the Broadway musical "Les Misérables" on opening night Wednesday, Feb. 6. There were showings on Friday, Feb. 7, and two on Saturday, Feb. 8. The production was originally sold out but additional seats were sold as overflow seating.
"We were nervous but excited for the show to go on," sophomore Carly Broth said. "We've worked so hard for the weekend and it was a lot of fun. The show was definitely a success."
"Les Misérables", translated to "The Miserable", takes place in 19th century France. The main character Jean Valjean (senior Brock Sorensen) violates his parole and reinvents himself as a mayor with stolen silver. The antagonist, Javert, (junior Enoch Oliver) is a police officer who chases Valjean in an attempt to finally imprison him. While mayor, Valjean adopts an orphaned Colette(sophomore Addison Wagner), whom the story follows through the events of love, tragedy and rebellion.
"It's a huge honor to have our show sold out, and I think it motivates the actors and everyone to do their best," Director Mr. Torres said. 
After winning state for last year's production, "Legally Blonde", Torres decided to try to one-up this year and go big with "Les Misérables". By selling out almost a month before the show, the cast's morale was very high. The production is in the running to receive the Nevada High School Theatre award.
"Everyone says you can't go bigger than Les Mis," Torres said. "And I just want to say you can go bigger than Les Mis, our next production will be announced soon."