By Ryan Kelleher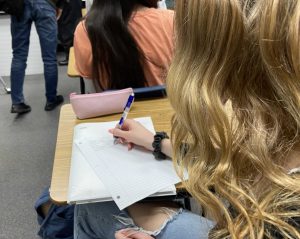 Interested seniors can write and submit a senior class poem to be read at the class of 2020 graduation. Poems must be typed and are due to Ms. Moss in room 210 on or prior to Friday, Feb. 28. The winning poem will be featured in the 2020 graduation program. 
"I like how the poem gives anyone an opportunity to speak at graduation," senior Spencer Wilkinson said. 
Poems will be judged based on style, inclusive content and overall feeling. Style includes the writer's tone, voice, word choice and syntax. Students are encouraged to make their poems inclusive to the entire 2020 class. Poems should have an overall positive feeling and aim to uplift and inspire the audience. A committee made up of teachers and administration chooses the winning peom. 
"The poem contest allows students to show their creativity and leave an impact on the rest of their graduating class," Ms. Moss said.