By Abbey Bowles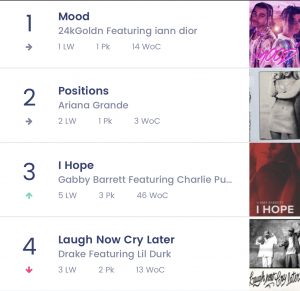 Music can easily be one of the biggest sources of entertainment. There are so many varieties of artists ,and new albums drop every day. Within the last year, there have been many new artists and some that have made a comeback. Many artists have dropped albums due to not being able to go on tour. The charts have so many different types of music from rap to R&B chill songs. So sit down, take a drive, or party alone in your room because we are in a pandemic) to the top ten trending songs.
Mood by 24kGolden Featuring Iann Dior 
Starting off strong, the top trending song is "Mood" by 24kGolden featuring Iann Dior. These artists have collaborated in the past, most notably on Iann Dior's "Gone Girl", which credits 24kGolden as a co-writer. Throughout the track, the two reflect on being stuck in a toxic relationship with a woman that is fickle, indecisive and often manipulative. 24KGolden is an American rapper and singer that used the vocals of the Puerto Rican/American rapper Iann Dior. This song was released on July 24, 2020, and shortly after its release, it became a trending song on the social media app Tik-Tok. From then on it became a chart success worldwide, peaking at number one in the United States, the United Kingdom and several other countries.
Positions by Ariana Grande 
Coming in second place is "Positions" by Ariana Grande. In this upbeat song, Ariana Grande acts as if she is a lady who is not interested in falling in love.  The song is based on the first verse which explains that she has past romantic experiences that did not end favorably. Now she doesn't want to run the risk of "history repeating". Later in the song, it explains that she has found someone whom she is really starting to like. This song was released on October 23, 2020. Unlike other artists, Ariana recorded both the song and music video in her own home. 
I Hope by Gabby Barrett featuring Charlie Puth 
Third on the top 10 trending billboard list is the song "I Hope" by Gabby Barrett. Gabby's song "I Hope" is an exercise in sarcasm. At the beginning of the song, Gabby addresses her ex-boyfriend who has now moved on with a different woman. She dedicates the bulk of the lyrics to hoping that he is indeed edified by his new girlfriend in ways he can't even imagine. She is singing from her perspective of a lady in a failed romance. Gabby was the third place winner on the sixteenth season of American Idol. A remix featuring Charlie Puth was released on April 17, 2020. The song received a country music association award for single of the year nominated at the 54th annual CMA awards ceremony. The song is certified Triple Platinum in Canada and the United States.
Laugh Now Cry Later by Drake featuring Lil Durk 
In fourth place is "Laugh Now Cry Later" by Drake- one of the more famous rap/hip-hop songwriters. Drake is a Canadian rapper,who collaborated with vocals from American rapper Lil Durk in "Laugh Now Cry Later". This song was released as the lead single from Drake's sixth studio album, Certified Lover Boy, which was released on August 14, 2020. Commercially, the song debuted at number two on the Billboard Hot 100, and number one in Drake's native Canada. 
Blinding Lights by The Weeknd
In fifth place was "Blinding Lights" by The Weeknd. "Blinding Lights" is a song by Canadian singer The Weeknd that serves as the second single of his fourth studio album, After Hours, which was released this year. It was released on November 29, 2019, two days after the release of the song "Heartless". The Weeknd wrote and produced the song with producer Max Martin and Oscar Holter, with Belly and Jason Quenneville receiving additional writing credits. A chromatics remix of the song was released alongside the deluxe edition of its parent album on March 23, 2020.
Lemonade by Internet Money and Gunna featuring Don Toliver and Nav
In sixth place is the song "Lemonade" by Internet Money and Gunna featuring Don Toliver and NAV. This song is an American hip-hop collective and record label with Internet Money and American rapper Gunna, featuring vocals from fellow American rapper and singer Don Toliver and Canadian Rapper Nav. This song was released on August 14, 2020 as a second single from his Internet Money studio album, B4 the Storm. The "bouncy summer" song uses an unreleased 2017 track by Toliver, singing the pre-chorus. A remix of the song replacing Gunna and Nav with American Roddy Rich was released on September 30, 2020 and also went viral. 
Holy by Justin Bieber featuring Chance The Rapper 
Number seven on the top ten trending songs is "Holy" by Justin Bieber featuring Chance The Rapper. "Holy" is a song by Canadian singer Justin Bieber, featuring vocals from American rapper Chance The Rapper. This song was released as the first single off Bieber's upcoming sixth studio album, alongside the official music video on September 8, 2020. The single marks the pair's fifth collaboration following Confident, Juke Jam, and featured appearances on I'm the One. Holy is a pop song with elements of gospel music. There is also an acoustic version that was released on November 6, 2020.
Dakiti by Bad Bunny and Jhay Cortez
Coming in eighth is "Dakiti", a song by Puerto Rican singer Bad Bunny and Jhay Cortez. It was released on October 30, 2020 through Rimas Entertainment as the duo's third collaboration with the first two being unreleased. The island song came in at number nine on the Billboard Hot 10 and number one on the Hot Latin Song chart, becoming the first song in history to do so.
Savage Love by Jawsh 685 and Jason Derulo
Held in ninth place on the top ten trending list is "Savage Love" laxed-Siren Beat by Jawsh 685 and Jason Derulo. The song was officially released on June 11, 2020. This song's genre is Dancehall. This song peaked at number one in seventeen countries including America. Additionally, the remix reached number one on the Billboard Global 200 and Canadian Hot 100 charts. The song also started trending on the app Tik-Tok shortly after its release.
For The Night by Pop Smoke featuring Lil Baby & DaBaby
Rounding off the top ten is "For The Night" by Pop Smoke featuring Lil Baby and DaBaby. This song was released as the third single from Smoke's posthumous debut studio album, Shoot for the Stars, Aim for the Moon. The track was originally set to featuring YoungBoy Never Broken Again, however Pop Smoke's team felt "the timing wasn't right." This song is Pop Smoke's highest-charting song.
There are so many great artists on the Hot Top Ten Charts, along with many genres. As we re-enter our second stage for quarantine, listen to these upbeat songs to keep your day going. For more songs that are trending go visit the Hot Top Ten charts,To find a constant flow of new songs and great beats.