By Aubree Gearhart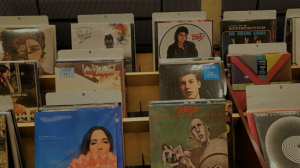 Trends come and go, but  these "vintage"  trends are making a comeback with the new generations. Fashion taste is ever-changing, and the younger generations are taking inspiration from the previous decades like the 60s, 70s, and 80s. The great part about these trends coming back into style is that they do not have to buy them brand new; they can be found at the local thrift stores or maybe even the back of your parents' closets. 
Corduroy
Corduroy was wildly popular in the 70s. It is dubbed "the fabric of the century", used for dresses, pants and even coats. Although the fabric is oftentimes seen as unappealing or unflattering, it has redeemed its popularity with the 21st century and is seen in almost all clothing stores today. 
Vinyls and record players 
Vinyls were invented as a way of listening to music in 1948. For the first time since 1986, vinyl records have become more profitable than CDs. This way of listening to music has become so popular that modern day artists such as Taylor Swift are releasing their new music on vinyl as well as digital platforms. 
"I got into vinyl collecting because it not only gave me something to do, but it just made me love music even more, said sophomore Cassidy Walbridge. "It's also interesting how the music we listen to and how we listen to it has changed over time. I've collected over 60 vinyls in the past 3 years." 
Bell Bottoms or "flare" pants 
Bell Bottoms were highly popular in the 70's. For most of the last decade, society has held onto skinny jeans for dear life. With styles changing, bell bottoms have grown to become more and more popular. Bell bottoms can be seen in several different types of styles, streetwear, westernwear, and even modeling. 
Doc Martens 
Doc Martens were originally invented in 1947 in Seeshaupt, Germany. The boots were made as a modest-wear work boot and were even sold as a gardening shoe at one point. The shoes grew to become popular in the 90s and were advertised as a normal everyday shoe as the popularity of the "grunge" style grew. Today Doc Martens are everywhere you go. 
"I mainly got Doc Martens because of their durability, and I love their various colors," sophomore Adriana Moreno said "They're pretty comfy once you break them in." 
Scrunchies 
After decades of being "uncool," scrunchies are making a comeback. Scrunchies were a form of a hair tie in 1987 and were popular in the 80s. Made out of cloth, scrunchies are meant to be more gentle on the hair compared to the regular hair ties. Scrunchies eventually regained their popularity in the summer of 2019 worn by people dubbed as "VSCO girls" who would wear them in their hair and around their wrists. 
"I don't wear scrunchies that often, but I like them a lot because they're very easy for putting my hair up," freshman Audrey Ellis said. "They're also good to wear for when I'm playing sports." 
Overall, trends range from clothes to music and everything in between. Bringing back trends is a way to look at the past and remember how things used to be. The reemergence of these styles and trends is definitely a shock to the older generations.