By Aubree Gearhart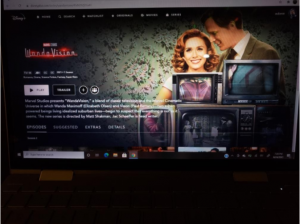 TV has become Marvel-ous! Marvel not only has cinematic movie masterpieces, but they also have TV shows that can be watched on platforms such as Netflix and Disney Plus. Some shows can be tied into the movies, but can also be watched standalone. 
Marvel's Agents of S.H.I.E.LD (2013)
Marvel's Agents of S.H.I.E.L.D is currently streaming on "Netflix". Throughout the seasons S.H.I.E.L.D (Strategic Homeland Intervention Enforcement and Logistics Division) hires a team of agents to investigate strange occurrences around the globe and beyond. The show is rated 95% by critics and 91% by audiences.  Each member of the S.H.I.E.L.D team brings something special to the team, and they work to protect those who are unable to protect themselves from extraordinary threats, including the formidable group known as Hydra. 
Marvel's Daredevil is rated 92% by critics and 88% by audiences. "Daredevil" follows Matt Murdock (Charlie Cox) who is an attorney by day, and vigilante by night. Murdock uses his heightened senses (from a childhood accident)  to fight crime in the streets of New York City at sundown. While his day job requires him to believe in the criminal justice system, his alter ego does the exact opposite. Murdock takes the law into his own hands in order to protect his neighborhood and its surrounding communities. 
Loki follows the infamous super villain Loki (Tom Hiddleston), God of Mischief, who steps out of his brother Thor's (Chris Hemsworth) shadow in order to embark on an occurrence that takes place after the events of "Avengers: End Game."  After Loki steals the tesseract during "Avengers: End Game" Loki is brought into the bizarre Time Variance Authority, an organization that exists outside of time and space, monitoring the timeline. Loki is given a choice, take the risk of being erased from existence because he is a "variant of time" or help to fix the timeline and stop a more substantial threat. Loki is rated 92% by critics and 87% by audiences. 
Marvel's Hero Project is rated 92% by critics and 86% by audiences. Marvel's Hero Project shows the remarkable positive changes that young real life superheroes are making in their own communities. These children find creative and mind-blowing solutions to attack big issues such as ending hunger, saving our environment, and so much more. Tune in to see these mini-superheroes changing the world, one step at a time.
Wandavision follows super-powered suburban couple Wanda Maximoff (Elizabeth Olsen) and Vision (Paul Bettany) as they learn that having superpowers in a normal suburban world with a not-so-normal family is not easy. Wandavision perfectly balances humorous moments with emotional storylines. A superb performance from Elizabeth Olsen brings the story to life. Wandavision is rated 91% by critics and 83% by audiences. 
Marvel does an exceptional job at creating not only very successful, show-stopping movies, but shows as well. Shows like Loki and Wandavison have been fan favorites recently as they have come out on Disney Plus and gained popularity on social media. Marvel fans alike absolutely love these shows, so get ready to sit back and enjoy these absolutely binge-worthy Marvel-ous shows!