By Lorin Alukonis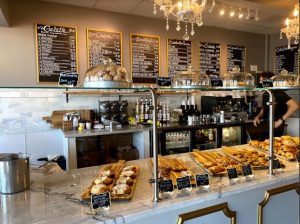 Whilst chain restaurants take over the country's industry, it's important to not forget about the small businesses that started it all. Some of the best are local cafés that serve delicious snacks and desserts as well as coffees and other crafted drinks in Vegas.
Le Cafe Du Val
Open from seven in the morning to three in the afternoon, this brunch café serves all meals and sweets with French inspiration. With every visit, the service is amazing from the welcoming workers who bring a positive attitude to the environment. Concerning the menu items, they are most known for their wide variety of crepes, which are made right in front of the customer's eyes along with rows of their baked treats. Of course, they have the classic sweet crepes made with Nutella, but also galettes which are more savory crepes that incorporate eggs, meat, vegetables and more. For example, one of their popular menu items, La Canard, consists of a buckwheat crepe made with duck prosciutto, gruyère cheese, sauteed spinach, and a sunny side egg to top it off. Another neat part of this establishment is that all of their pastries are half-price in the last 30 minutes of the day, still tasting delicious as ever. Whether one is craving savory and salty or sweet and rich, Le Cafe Du Val has all the French cuisine one could ask for.
Café Lola
Mostly known for its iconic pink floral wall, this European-inspired coffee shop has been making its name known to Vegas locals. First off, the aesthetic of this café gives a "cute and fluffy" puppy environment with its pink and diamond-infused furniture and small brunch snacks with a healthy twist. Because of Food Network's recognition of this establishment being named Nevada's most 'Instagrammable' café, more locals have been discovering this hidden gem on Eastern and are spreading its name through tagged posts with the rose wall. As for their drink menu, they sell almost all forms of coffee including espresso, lattes, cappuccinos, and more with unique sweet flavors. Of course, they serve other caffeine-free options such as their Donut Frappe which is a frappuccino topped with a pink donut to snack on. Honestly, their range of out-of-the-box items really makes this coffee shop unique to others. They are open from 8 AM to 5 PM every day and don't worry if their shop is too far; they are building a second location in Henderson this winter.
Zen Coffee Bar
Also located on Eastern, Zen Coffee Bar focuses more on their drinks than their food items. From coffee to smoothies to tea, this café has it all. The family-owned establishment brings a friendly atmosphere and calming environment with its clean and sharp look. The owners of Zen Coffee Bar focus more on bringing the community together than just making sales. Contrary to typical coffee shops, Zen offers more sweet lattes and smoothies rather than an average cup of joe. One of these creations is the Raspberry Chocolate Truffle latte which is outstandingly delicious compared to other lattes from larger corporations. If ever needing a quick refreshment for the summer heat or a warm coffee for the winter, Zen Coffee Bar is the way to go.
Le Paris Brest Cafe
Another family-owned café located on Eastern is Le Paris Brest Cafe, open from 7:30 AM to 6 PM on Tuesdays through Fridays and from 9 AM to 5 PM on Saturdays. This French-Tahitian owned business focuses on their pastries and lunch items which range from sweet and savory crepes to cakes and pastries to croissant sandwiches. Of course, there are espressos and teas available, however, the goodies really take the cake. Right as customers walk through the door, they see how the white finish and gold accents really tie the aesthetic together. Then, the rows of baked goods intrigue the eyes of hungry customers who can't help but to want everything that is offered. One popular menu item is the savory crepe called the La Salmon which quite obviously by the name, is made with farmed smoked salmon, mushrooms, swiss cheese, and topped with bechamel sauce that ties all the flavors together. If searching for an affordable and nearby café,  Le Paris Brest Cafe is the place for you.
If one is ever in need of a quick coffee or sweet treat, these amazing local cafés are available. From unique concoctions of beverages to bold pastries, the wondrous menu items are most definitely worth more than a regular gas station snack. Open one's culinary world with these incredible family-owned coffee shops and cafés today!
Which cafe do you love?

Le Paris Brest Cafe.

0 Vote