By Brianna Gracia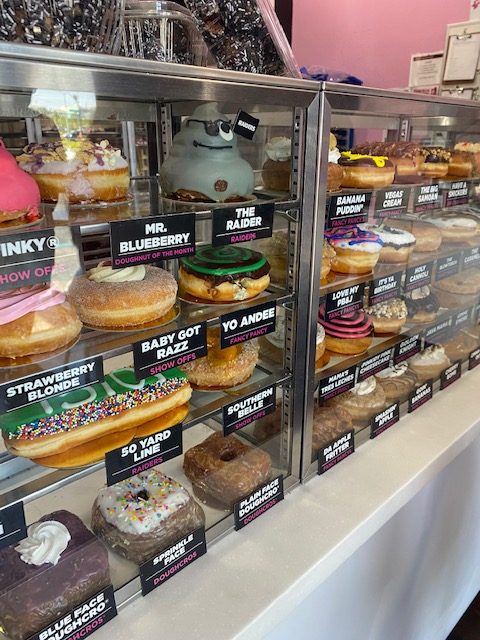 Vegas is known for many things, but our stellar sweet treats aren't one of them. After closer observation, though, it's obvious we should be known for our outstanding bakeries. Don't worry – a spoonful of sugar never hurt anyone. It's amazing what baking can do!
Kneaders offers a wide variety of savory and sweet treats and can cater to any craving, sweet or salty. For breakfast, try some pancakes, french toast, croissant sandwiches, or omelets. When lunch comes around, taste a french dip, classic cafe sandwich, or cheese melt. Customers can expect a lovely selection of soups and salads at dinner. The Soup Selection includes a quart of soup, soup in a sourdough bread bowl, and a bowl of soup with bread on the side. The Daily Soup Menu always changes, so there is always a variety of options. Their salad options include (but aren't limited to) fruit salads, chicken salads, Broccoli Berry Brunch Salad, and the Turkey Bacon Avocado. Kneaders even provides gift baskets for the holidays – what a way to impress loved ones!
"My favorite thing to get at Kneaders is definitely their bread," sophomore Kaitlyn Belen said. "Would rate it 5/5!"  
Nothing is better than a bakery serving up cakes with personality. Freed's offers finely decorated cakes – but they aren't run-of-the-mill desserts. Indulge in their World Famous Strawberry Shortcake, or perhaps the Cotton Candy Rose Cake. They also provide cookies, cannolis, and cupcakes. The great thing about Freed's Bakery is that they can cater to various events, such as weddings, bachelor/bachelorette parties, graduations, birthdays, baby showers, religious events, and anniversaries. When the holidays roll around, expect some new festive treats, such as the Hug in a Mug Valentine's Day Cake, or the spooky Halloween cake decked ghostly white and red that is simply named, Run. Perhaps that cake isn't as sweet as it seems… but you'll never know until you try it! 
Inspired by its Danish heritage, Chef's Flemming's Bake Shop delivers pastries and specialty cakes just for Vegas locals. The interior is cute and cozy, allowing for an ideal eating experience. Walk inside, customers are greeted by an adorable sign reading, "Chef Flemming's Bake Shop," as well as the Danish flag proudly strung along the main desk. Baskets of bread and other goodies sit upon counters. Some of their most notable dishes include cream puffs, the ever-adorable Mini Pecan Pie, and teeny fruit tarts. On top of that, Chef Flemming's offers unique flavored cakes such as Citrus Sponge, Vanilla Chiffon, Mocha Cream, and Banana. 
PinkBox is the official donut partner to the Las Vegas Raiders, which gives customers all the more reason to support. Upon stepping into the establishment, customers are wowed by the bedazzling pink interior. One can pick from their OG's, Good Fellas, Fancy Pancys, Doughcros, Show Offs, or Raiders Specials. There are even vegan options. If customers want something a little smaller, grab some Pee-Weez – the cutest donut holes. Fun Fact – PinkBox Donuts claims itself to be the best donuts in Las Vegas. They are certainly riding up to hold that position with their ability to cater to custom orders and ambition to serve only the zaniest of sweets. PinkBox Donuts even has merchandise for their loyal fans. 
"I love the vibe of their shop. It's quiet and minimalistic," junior Saaya Parikh said. "My favorite is their chocolate bar; I'd rate it a 5/5, it's so good!" 
At Hellas Bakery, the dining experience is hella delightful! Not only do they sell cakes and sugar sweets, but they also offer savory options such as soups, burgers, breakfast, and more! Unlike the other restaurants, though, Hellas Bakery exclusively serves Greek Dishes such as the Saganaki (containing two eggs, sausage, feta cheese, tomato sauce and hashbrowns,) or the Keftedakia, (containing ground beef meatballs and tomato sauce.) If a customer is looking for a more traditional dish, they may try the Mousakas, containing baked eggplant, zucchini,  potato, ground beef, and bechamel, or beef stew served over rice, fries, or egg noodles. The options aren't limited to this article – customers must check out the restaurant for themselves.
From special occasions to weekend binge-watching, fancy dinners to movie date nights, the Valley has a plethora of bakeries for your sugary needs. Whether you're looking for a full meal or something on the go, there's an option for everyone. Now then, go out and support these delectable local bakeries. 
Chef Flemming\'s Bake Shop