By Aubree Gearhart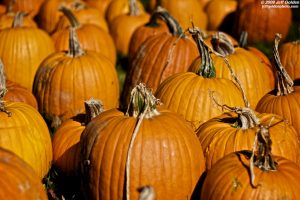 It's officially fall, which means everyone is looking forward to being outside in the fall weather. With a cool breeze comes fall festivities. Activities like pumpkin patches and haunted houses are a couple of the highly anticipated things about fall, and it is likely that everyone is looking for places to go to. 
Halloween Town pumpkin patches are mainly located in Boca Park, but they have branched out and now have several locations. Halloween Town has provided an immense selection of pumpkins to not only Las Vegas residents but visitors as well. This patch takes Halloween a few steps ahead not only with their pumpkins, but also with games, rides, and other local events. The Boca  Park location is open from October 5th to October 31st. 
For those who are lovers of all things spooky, Vegas Fright Nights at Opportunity Village has spine-chilling fun for you. Start your spooky adventure off by visiting the Nightmare Manor, where you can meet not only one, but two demonic spirits. If you think you are brave enough to survive this horrifying experience, come out and visit Vegas Fright Nights. This spooky activity is suitable for all ages. 
One of the most well-known orchards in the city, Gilcrease is a real pumpkin patch with a variety of seasonal foods. They're open all year long, but it's the best this time of year because they have legendary donuts and apple cider. Gilcrease also has a small hay maze to have fun and get lost in. Go to Gilcrease for all of your pumpkin picking affairs.
"My friend and I have always made it a tradition to go to Gilcrease Orchard every first weekend of October, " senior Kennedy Lott said "It is the cutest environment, from little families to couples picking things from pumpkins to apples! I love it there; I would absolutely put on some overalls and work there if I could!" 
The Trilogy of Terror is open from September 28th to October 31st, and opens most nights at 7 pm, and closes when the last person is most terrified. Depending on the night, box offices close around 11 pm-12 am. The Trilogy of Terror is located at 4245 S. Grand Canyon Drive. The Trilogy of Terror might not be the most "insta-worthy" fall activity, but you are sure to get a good scare in. 
McKee Ranch 
McKee Ranch is open year-round but has special events that happen in the fall. They are located at 8982 Dean Martin Drive. McKee Ranch is an amusement for the whole family, as the ranch has animals of all kinds. McKee Ranch has several picturesque areas, like the pumpkin patch and the barn. 
Fall is arguably one of the most popular seasons with many things to do with loved ones. With this variety of activities, from Instagrammable pumpkin patches to some of the spookiest haunted houses, which of these would you choose to go do with your friends and family?