By Valerie Perez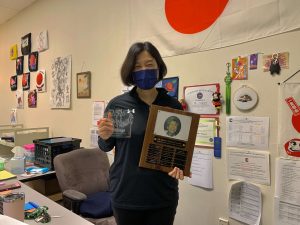 Japanese teacher, Mrs. Vergara, was chosen for the University of Chicago Educator Award after one of her former students nominated her. A Google Meet was held Monday, October 25 for teachers across the world who were given the honor, including Mrs. Vergara for recognition in their outstanding education at their school. 
"I feel very grateful that one of my students chose me as one of the teachers for the award," Mrs. Vergara said. "Not only am I thankful that I am able to teach students about a culture they are unfamiliar with, but I am excited that students are able to understand what they've learned and utilize it for their future." 
First-year students attending the University of Chicago are asked to choose teachers that have impacted their education and have influenced their future. Admiring Mrs. Vergara's optimistic attitude and passion for Japanese Culture, one of her former students, Danielle Lopez, chose to nominate her. 
"I am proud that I am able to impact students and allow them to build their confidence with a new language," Mrs. Vergara said. "Danielle Lopez was an example of how a student can grow and succeed with practice and reassurance. I believe every student has the potential to be great and go outside their comfort zone to learn a new language."
Growing up in Japan, Mrs. Vergara was always interested in teaching others the English language and tutoring at her school. After deciding to teach in the states, she was able to bring her culture to others when she moved to Hawaii. Having loved being able to influence students, she continued her career in Las Vegas where she was able to join the language center of Coronado and pursue her passion for teaching students the Japanese culture.
After being nominated, the university mailed a certificate and a plaque with Mrs. Vergara's name, congratulating her on her accomplishment. She was later invited to attend the Google Meet with other teachers around the world who were nominated for the same award, and each was recognized for their dedication.
"Mrs. Vergara is an incredible teacher who is kind to all of her students," senior Alex Humphrey said. "Not only does she generously help all students, but she is patient when it comes to teaching the Japanese language."