By Maya Fankulewski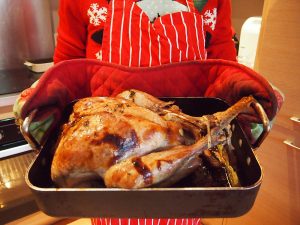 Thanksgiving is a holiday many Americans celebrate with friends and family by eating a variety of traditional foods such as stuffing, gravy, potatoes, pumpkin pie, cranberry sauce, and of course, turkey. The one time a year that there are bundles of turkey in a store is around Thanksgiving. Every person who celebrates this holiday spends hours preparing a bird just to eat during one meal. So much stress, time, and money go into preparing a turkey, and many people wonder if it's even worth it. Spoiler alert- it's not.
Turkey is a very time-consuming meat to cook. You could fly across the country and back by the time it is ready to be eaten, which most people are doing with holiday air travel. Before the turkey even touches the oven, it must go through a sacred ritual, first it has to get washed, then massaged in butter, next filled with stuffing, then some herbs get sprinkled on top and finally, it is ready to sit in the oven for the whole entire day. This is the most time-consuming Thanksgiving dish to make. Everyone always starts to get hungry while impatiently waiting for the turkey to finish baking, and being "Thanksgiving hangry" is no joke.
Turkey can serve a lot of people, but sometimes it is just too much meat. The leftover turkey after Thanksgiving dinner is sure to be forgotten about in the back of a refrigerator. Every other Thanksgiving leftover is delicious, but the turkey will mold. Turkey tastes best when it is warm and fresh out of the oven. After a few days, it starts to get repetitive and boring eating cold, stale pieces of it. Unless there are going to be a dozen meat-lovers sitting at the table, opting for a rotisserie chicken from Costco would be better than devoting so much time and effort into a 20-pound dry bird. 
The most expensive Thanksgiving food is indeed turkey. While other meats such as chicken generally cost around $15, turkeys are usually sold at $50. Americans go crazy for turkey at grocery stores during Thanksgiving. Some people even argue and fight over who got to one of the frozen birds first. People hype up turkey so much around this holiday that it's not uncommon to see Karen's fist fighting for turkey in the meat aisle at Walmart. These people are pretending to like a tasteless bird that's served one month out of the year.
Chicken is very similar to turkey, the only noticeable differences are size and taste. Eating chicken on Thanksgiving should be normalized, as it is practically the same thing and even easier and cheaper to prepare. The only reason turkey tastes so delicious is because it is accompanied by stuffing and cranberry sauce while being slathered in gravy. Add some of these seasonal side dishes onto a piece of chicken and it's sure to taste almost exactly like a turkey. 
There is a reason people only eat turkey once a year. It is an exhausting chore to prepare such a time-consuming and difficult bird. Turkey is not necessary to have for an amazing  Thanksgiving dinner. It is overrated, expensive, time-consuming, and stressful to prepare just for one meal. Thanksgiving is a day meant to spend time with family and friends, but instead, most people spend the whole day stressing out over a headless bird in their oven.