By Maya Fankulewski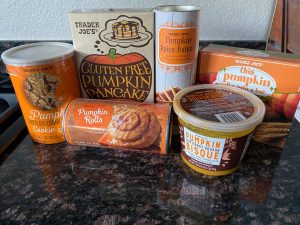 Trader Joe's is not an average grocery store that sells regular or basic foods. Their market branch comes up with the most unique and extravagant seasonal foods to try. This market takes fall to the next level, as almost everything has pumpkin as a core ingredient. From pumpkin cereal bars to pumpkin bisque, there is an abundant amount of compelling seasonal foods to choose from at Trader Joe's. 
Pumpkin Bisque
The pumpkin bisque at Trader Joe's is the best flavorful soup to eat this fall. Although pumpkin soup may sound questionable, the savory flavor of this bisque along with some sourdough bread is the perfect dinner to eat on a chilly autumn evening. It is also a superb dish to eat on a busy school night as it only takes a few seconds to microwave until it is ready to be eaten. 
Pumpkin Oat Milk
Not only does Trader Joe's have a variety of plant-based milk to choose from, but they also have seasonal milk. Pumpkin oat milk is definitely one of the most unusual, but one of the plant-based milks to try. This is a delicious milk to pour into a warm cup of coffee before running out the door for a busy day at school. The pumpkin oat milk at Trader Joe's has the perfect amount of sweetness and pumpkin flavor to make it the most compelling plant-based milk to drink this season. 
"I love the pumpkin oat milk at Trader Joe's'," senior Emily Fankulewski said. "It makes my coffee taste delicious, especially with some pumpkin spice creamer." 
Pumpkin Oatmeal Cereal Bars
The pumpkin oatmeal bar from Trader Joe's is the ideal snack to eat on the go. The sweet taste of pumpkin and oatmeal makes for the best snack at school. Unlike Nature Valley granola bars, the pumpkin oatmeal cereal bars do not make a mess when taking a bite. This bar is a great snack for pumpkin and cereal lovers to try this fall, as the sweet cinnamon taste will not fail to start a cereal bar addiction.
Pumpkin Cookie Mix
The pumpkin cookie mix is hands down the best seasonal cookie to be eating in autumn. These oatmeal cookies are easy to make as all that is needed to do is mix the dry and wet ingredients and put them in an oven. These cookies have the perfect amount of sweetness and softness, making them a tasty dessert to eat this season.
"Cookies are one of my favorite types of dessert," senior Dhanvi Yuvaraj said. "The pumpkin cookie mix from Trader Joe's is really good; I crave them all the time." 
Pumpkin Rolls
Pumpkin rolls are hands-down, the greatest breakfast to eat this fall. Topped off with a sweet pumpkin sauce, these rolls are a must-have this season. As it only takes a few minutes to prepare, the pumpkin rolls are the perfect seasonal food to try this fall. 
Trader Joe's is the top grocery store to experiment with tasting the most unique and odd seasonal foods. From pumpkin soup, milk, and pumpkin cookies, the seasonal foods here are extremely intriguing and mysterious. Take a risk with your taste buds and go try some compelling fall foods from Trader Joe's.