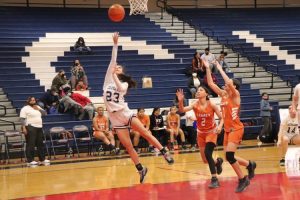 Women's Basketball
By Madison Kitch
On Wednesday, Jan. 5, Coronado's Women's Basketball team played against Legacy High School and won 51-34. This was their first game of the 2022 year. 
"The chemistry of our players was what really allowed us to dominate the game and run up the score," senior Morgan Dougherty (#20) said. "When we work together on the team, we're unstoppable on the court."
The team's chemistry is what helped them win the game. The women's basketball team also won their two previous games against Sunrise Mountain and Las Vegas. However, their success isn't without hard work. The fourth quarter of the game brought challenges, but the team ultimately won.
"The fourth quarter was probably the most stressful. Before the game, our coach wrote three goals for us to accomplish. How we played in the fourth [quarter] would determine whether or not our goals had been met," Dougherty said. "At the end of the game, it was revealed that we reached each of the goals he set for us and the celebration in the locker room made it all worth it."
With a strong support base and good connections, the team will keep up their winning streak. Catch them at their next game on Wednesday, January 12. They'll be playing an away game against Desert Oasis at 6:30.
Wrestling
Brianna Gracia
Coronado's wrestling team took on Durango HS on Wednesday. Wrestlers faced off against each other, taking on each pin. Though there were some wins by pin, in the end, Durango won that match. 
"We actually lost quite a bit, mostly by pin," freshman Kaela Barrientos said. "A few of us did win with good technique and strength."
On Thursday, Coronado took on Cheyenne HS. Once again, the team found themselves facing worthy opponents. There were a few losses by pin, but Coronado won the competition and took home the most points.
"Every time we win, we get a point towards the school," freshman Kaela Barrientos said. "Most people won by pin, though there were a few losses. But none of us lost by points" 
The wrestling team will have their next match against Palo Verde at Palo Verde High School on Thursday, Jan. 13. Varsity will play at 6:00 PM.
Women's Flag Football
By Addison Stanton 
On Friday, January 7, Coronado's Varsity Flag Football team took on Virgin Valley and lost 34-33.
"My team performed the best we could," said inside linebacker Bella Lang." Virgin Valley is a team from Mesquite and they are undefeated. I thought we did a good job keeping up with them until the very last minute."
The game was quite a show. Coronado was up by 6 points until the last minute. After a last-minute push for the game winner, Virgin Valley scored a winning touchdown. The receiver caught the ball right as the final buzzer rang. Despite this, the referees decided to count the touchdown, which lead Virgin Valley to win by one point.
"I think we should've won and we would've if the last play was called off by the referees," said Junior Bella Lang.
Coronado will be facing Gorman in a home game on Thursday, January 13th, at 4:30.