Varsity Golf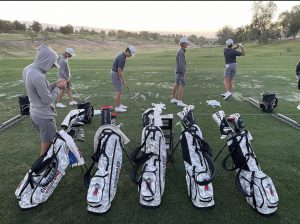 by Brianna Gracia
In an away league game on Thursday, April 7, Coronado's varsity golf team brought home the win. They played Foothill, Desert Oasis, Palo Verde, and Liberty. Though they won by four strokes, players feel there's always room for improvement.
"We kind of struggled on the last few holes," said Thomas Chung, 12. "Even though some of us finished under par, and we had pretty good scores, we could've played better." 
Regardless, Varsity brought their A-Game and came out victorious in the end. In golf, it's more about the experience than the prize. For Coronado's Varsity Gold team, there's nothing better than a fresh course, a sunny day, and a great match.
"Overall, the course was in great shape and we did pretty well," said Thomas Chung, 12. 
Varsity Golf heads to California, where they will be competing in the Champions Invitational on Mon., April 11. 
Varsity Track and Field
by Addison Stanton 
On Thurs., April 7th Coronado's track team competed against other schools at a Liberty away meet.
Coronado's track team took on multiple schools in the valley in a track meet that started at 4:30 p.m. and ended at 9 p.m.. As in the previous meet, multiple people qualified for regionals. Just to name a few, freshman Leila Armstrong qualified for the 800 run with a time of 2:39.35 seconds and junior Sloane Vuckovic also qualified for the 800 run with a time of 2:39.21. In the boys 200 dash, junior Jeremiah Kunitake qualified with a time of 22.50.
"I am so relieved that I qualified for regionals," said junior Sloane Vuckovic. "I am still recovering from the run. I've been coughing so much since last night."
Overall Coronado got 175.50 points in the boys section and 268.50 in the girls section. Coronado won the whole event with a combined total of 400 points. Coronado will be competing in a track meet on April 21st.
Women's Varsity Softball 
by Aubree Gearhart
On Mon., April 4, 2022, the Coronado Cougars varsity softball team took on the Basic Wolves. The final score of the game was 11-1, the Cougars taking the win. 
"We really had our heads in the game." senior Ashley Zavala (#3) said. "We did great at-bat. We encouraged each other to do better, and in the end, it led us to a win."
The Cougars had great hits throughout the entire game, their chemistry throughout the entire game was astounding. Several runs were scored on their part and their defensive game was on point. 
"For Basic, we went in with a lot of energy and focused on that win," senior Emma Koenig (#2) said. "We worked together as a team and kept scoring every inning us to an awesome team win." 
On Wed., April 6, 2022, the lady Cougars took on the Centennial Bulldogs. The final score of the game was 3-1, with the Cougars taking the loss. 
"Centennial is a hard team to beat, so we knew that we had to fight hard," senior Emma Koenig (#2) said. "We had a great defense and Kendall pitched an amazing game, but our hits just weren't there. We did a great job preventing their runners from scoring by making no errors." 
Although the Cougars were only able to score one run the Cougars had a great defensive game against the Bulldogs. The Cougars lost by 2 runs. 
"We tried our best but needed to put in a little more effort and work into our batting." senior Ashley Zavala (#3) said. "We held them off so it wasn't a bad game, but practice will make us better." 
For their final game of the week, the Cougars took on the Rancho Rams. The final score of the game was 8-7, the Cougars taking the win by one run. 
Catch your Cougars back in action on Wed. April 20, 2022. The Cougs will take on the Green Valley Gators.