by Maya Fankulewski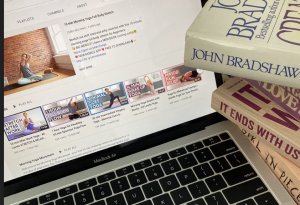 After a long and tiring school year, self-care is the best way to wind down and start off summer break. Finding enjoyable hobbies, focusing on improving mental health, and having a 'glow-up' are a few ways to mentally grow over the break. Traveling is not necessary to have a memorable summer break, as focusing on mental health is the best way to relieve stress and build up positive energy.
During the school year, it is easy to forget about hobbies and passions. Many students take part in clubs, sports, or have jobs, which could all be very time-consuming. The amazing thing about summer break is that there are no academic responsibilities. Now is the time to get back to going on adventures and trying new things. Buying a new book, trying out a new coffee shop, or simply cooking a new recipe could make for a fun, productive summer day. While it's nice to hang out with friends, it's also important to learn how to spend time with oneself. Activities such as going on walks, painting, or journaling can be something entertaining to do alone. 
"I can't wait to start journaling and reading again this summer," senior Emily Fankulewski said. "I love being able to just relax and take a break from school work and social media." 
With finals and AP exams, the end of the school year leaves many high school students feeling completely drained. Academic stress can take a huge toll on mental health, which is why it's important to prioritize well-being over the summer. Taking a break from social media, writing positive affirmations, meditating, and practicing a skincare routine are easy yet effective ways to improve mental health. Having a clean room and friends to confide in are crucial factors for boosting mental health. It's important to understand emotions and feelings, even if they are negative. Summer break is the best opportunity to mentally recharge and grow as a person.
Summer break allows teens to have more free time, which leads to more time to change their aesthetics and style. Now is the time to buy fashionable clothing, dye your hair a fun color, try a new makeup look, and so on. There is no dress code over the break, which means there are limitless ways to express and style yourself over the summer. One of the best parts about summer is going back to school in August with a completely different look and vibe. It's also fun to see how everyone else changed as well. 
"I love changing up my wardrobe and my room decor over the break," senior Dhanvi Yuvaraj said. "I can't wait to buy new clothes and change the aesthetic of my room." 
Summer break is the time to put mental health and well-being in front of everything else. After a stressful year of hard work, it is important to take a break. It's also important to listen to emotions and grow from past mistakes. Leave the stress for school-the only assignment for this summer is to make memories and enjoy life.