Varsity Softball 
by Aubree Gearhart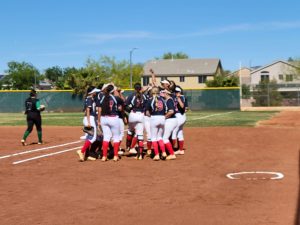 On Monday, May 2, the Coronado Cougars Varsity softball team took on the Centennial Bulldogs. The final score of the game was 8-3, the Cougars taking the loss. 
"The game was chaotic," senior Julia Padilla (#15) said. "But we rallied together and continued to have eachother's backs no matter what." 
There was a few errors on the Cougars end during their battle against the Bulldogs. Given the errors the Cougars managed to keep it together and do their best to get to the end of the game. 
"We had some mishaps that game but in the end, everyone was fine," senior Emma Koenig (#2) said. "We didn't get the win we expected but that gave us the drive to win our senior night." 
After the tough loss to the Bulldogs, the Cougars went on to play the Rancho Rams on May 4. This was the Cougars senior night game. The Cougars were able to pull through with a win against the Rams during their senior night, the final score of the game was 5-0. 
"This was the best game we have played this year," said senior Julia Padilla said. "We played our hearts out and it payed off. Playoffs here we come!" 
With the Cougars being able to pull through the win against the Rams, the Cougars will now proceed to playoffs.
"We really came together as a team and won our senior night," Koenig said.) "It was a great game and all the seniors got to see some playing time." 
Watch the lady Cougars take on the Shawdow Ridge Mustangs at Shadow Ridge field on Monday, May 9, 2022. 
Varsity Golf
By Brianna Gracia
Coronado's men's varsity golf played a league match last Tuesday, May 3. The team won by quite a few shots against Palo Verde, Desert Oasis, and Liberty High School. In total, out of the five players selected to play, they made 360 shots. 
"As a whole, I think most of us played well," senior Brett Sawaia said. "Almost everyone finished in the top ten." 
Coming close to postseason, the team can agree they've grown incredibly from the beginning of the year. With a lot of new members joining the team, there was a learning curve that hindered their performance at first. 
"We have a pretty young team, and they're starting to adjust to playing back to back," said Sawaia. "I've watched them improve over the past few games, and they play really well."
With regionals this week, the group knows that regardless of how they perform, the experience of bonding as a team and growing stronger together has been well worth the tireless work and practice. 
"I think practicing every week with each other and getting to know the newer guys has made us stronger and closer, and that helps us play better," said Sawaia. 
Currently, they are playing at Regionals Monday, May 9, and Tuesday, May 10.