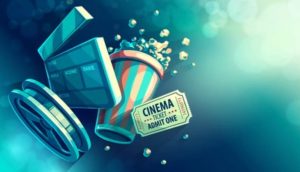 by Tainá Queiroz Fonseca 
After a two year pause in the entertainment industry, fans have been waiting for a time of minimal restriction, the year 2022. 2022 is the year of movies, with, hopefully, no more delays or distractions.
Recently released on Netflix starring Maya Hawke, who played Robin in the popular Stranger Things Series and Camila Mendes, who starred as "Veronica" in 'Riverdale', will be collaborating in their new movie 'Do Revenge', which came out on September 16, 2022. Fans expect to follow the two actresses as seniors in high school who help each other get revenge on their nemesis. 
It's no secret that there's one particular movie that has been long anticipated, partly because of two "fan-favorite" actors: Florence Pugh and Harry Styles. "Don't Worry Darling" will be released on September 23, 2022. Olivia Wilde directed the film based on the story by Carey Van Dyke, Shane Van Dyke, and Silberman. The plot has been kept relatively hidden, but audiences can expect to follow a housewife, played by Florence Pugh, and her husband, played by Harry Styles, in the 1950s living in a utopian society. The housewife grows weary of her husband's friends and the rest of the people living in the society and fights for her freedom in an exciting thriller. 
Also on September 23, the film adaptation of 'On the Come Up' is sure to inspire all audiences. The story follows Bri, a teenage girl who dreams of becoming the greatest rapper of all time. She faces many controversies and obstacles in her way. Fans can catch her on Paramount+ next Friday and fall in love with the original story once again. 
Not only is 2022 the year of movies, but it's also the year of sequels. It only took 29 years, but the beloved Disney Halloween movie "Hocus Pocus" is getting a sequel. Hocus Pocus 2 will be released on September 30, with the story following the original three witch sisters who were executed for witchcraft in the 17th century. Fans will travel back to Salem, Massachusetts, and join the Sanderson sisters again as three high school students light the black flame candle for the first time in 29 years. Will these students be able to stop the sister trio from wreaking havoc before midnight on Hallows Eve? Fans will have to wait and see.
Another long-awaited movie gives rise to a new DC superhero, Black Adam. Dwayne Johnson plays Black Adam in a spin-off of 'Shazam!'. Black Adam will do whatever it takes to deliver justice no matter the consequences. The superhero first appeared in the DC comics in 1945, and fans are ecstatic to see the superhero on the big screen onOctober 21, 2022.
 Spider-Man: Into the Spider Verse
DC fans have a lot in store for them but unfortunately for marvel fans, another long-awaited superhero movie has been delayed. The animated marvel movie 'Spider-Man: Into the Spider Verse' was expected to be released in October 2022, but it has been delayed with part one only being released in June 2023 and part two in 2024.
While fans hope the movie industry is finally back to normal, that decision is not in their hands. The most they can do is to continue following COVID restrictions and prevent another breakout from spreading. Soon enough these movie abnormalities will be a thing of the past.