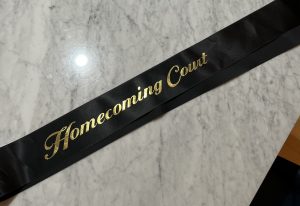 by Addison Stanton
Homecoming: a season where school spirit is elevated and students campaign for their chance at Homecoming royalty. While freshmen, sophomores, and juniors have just one round of voting, seniors take it to the next level. For the first round, only seniors voted for potential kings and queens. The top five students with the most votes moved onto the second round where they  battled it out for the actual title of king and queen. Here is the final list of candidates for senior Homecoming royalty:
Sloane Vuckovic
School involvement is one thing Sloane Vuckovic does not lack. Competing for the Cougars in various sports -cross country, flag football, and track and field- Vuckovic is definitely looking to deck out her letterman jacket. However, sports are not the only thing she does for Coronado. After joining the Cougars' student council in her junior year, she decided to return for another year. In just a short time, she was able to appeal to her senior class and be awarded the position of senior vice president. The list continues with her membership in the Cougar's Hope Squad, AP academy, and the Cougar FIT program. Not only does she assist in bringing home sporting accolades, but she is also working hard to keep Coronado a safe and entertaining place. 
Xayla Black
Sports and academics are Xayla Black's main focus points for this school year. She finished a lot of her credits over the summer which is allowing her to graduate in December. She committed to the University of Portland on a soccer scholarship in her junior year and will play for the school. She has also played on the varsity women's soccer team since her freshman year in which she brought home a state runner-up title and a state championship in 2021. However, not only her soccer career is successful. Black is also known to be there for her friends and will always support them no matter what. 
Shani Abeyakoon
Academics are Shani Abeyakoon's first language. Not only did she get a 5 on the AP Chemistry exam, which is said to be the hardest science exam, but she is also the president of the Science National Honor Society and the South Asian Student Alliance. Abeyakoon is constantly working on getting students involved in extracurricular activities. Abeyakoon participates in an abundance of school programs, including the National Honor Society, Key Club, the orchestra council, and is in Coronado's Chamber orchestra. Overall, Abeyakoon works overtime and puts hours into improving Coronado High School.
Aspen Pierce
Cheerleader, Aspen Pierce, has four years of cheering for Coronado under her belt. In her senior year, Pierce made the role of cheer captain. She is seen as a leader amongst the cheer team as she is constantly pumping up the student section. Cheer isn't the only thing Pierce participates in. She is always giving back to her community by converting her time into service hours for National Honor Society and Cougars for Change to make Coronado a better place. Additionally, her kindness and openness to others make her a great to get to know. She prides herself on being social and always looking for new students to introduce to her current friends. On top of all of this, Pierce takes AP and honors classes. She currently holds straight A's and is looking to keep it that way all year.
Bella Lang
Student-athlete and first-year student council member, Bella Lang, definitely works to make Coronado a better place. Being part of the student council's deco committee, Lang is constantly updating Coronado's look. She is known to always take the lead and express her ideas on how to keep the school involved in new trends. Flag football is another commitment Lang participates in. Formerly playing on Coronado's women's soccer team as a freshman, Lang transitioned into flag football her junior year and ended up being a vital member of the team.
Kyle Trinh
News is second nature to Kyle Trinh. He is often known for his action-packed and exciting edits reproduced on the broadcasting Channel 6 News. He is a firm believer in making sure the  students of Coronado are informed and entertained by every important/big event. To get them out in a timely manner, Trinh shows the dedication he has to the Cougars in their various events. His news reporting skills are up to par, but Trinh always finds ways to improve and to make people laugh. Trinh expresses this when he went around the school asking random students to Homecoming as well as when he dressed up as Perry the Platypus. 
Jeremiah Kunitake
Football and track are sports Jeremiah Kunitake dominates in. Since his freshman year of playing for Coronado, Kunitake has shown his skills and leadership to qualify for Varsity captain and student-athlete represented on the football banner. While he is always keeping the work rate and team morale high on the field, he continues to do so on the track. In the spring Kunitake competes in the 100-yard dash. What makes this more impressive is he also races and competes against all the best students throughout Southern Nevada. Off the field or track, Kunitake never fails to make people smile with his jokes and has a wide range of social circles. Of course, his academics are another thing he excels at as he currently holds straight A's for his first quarter.
Jacob Jorgenson
Lacrosse and leadership really describe Jacob Jorgenson. Playing lacrosse for the school is something Jorgenson loves to do. He is a player that is said to make an impact on the field. On the topic of making an impact, Jorgenson is the president of Cougars for Change. He helps run the club and incorporates discussions about improving our school. "Holding doors day", where club members hold doors open for fellow students and teachers, was one of the few brilliant ideas Jorgenson helped to uphold. Not to mention he is an AP and dual credit student who has achieved straight A's. Jorgenson doesn't just specialize in one thing, he is a very well-rounded person who is successful in multiple different activities for the school.
Spencer Kim
Spencer Kim excels in academics and debate. Not only is he a delegate for model UN, but he also assists people who seek help with math in Mu Alpha Theta. In his junior year, he achieved the National Merit Scholar title by scoring exceptionally high on his PSAT. While it seems Kim is already busy, he still finds a way to squeeze in hours for National Honors Society and guide the Outside Service League. With his packed AP schedule, Kim definitely has great time management, to say the least. 
Ezra Baptista
As a long-time soccer player, Ezra Baptista knows how to play on the field. Multiple years of varsity soccer have brought Baptista team building and leadership skills. However, the field isn't the only thing that he influences. Baptista is known to be a very sweet person who supports his friends. While he balances relationships and his soccer life, he also stays on top of his grades as an honors student.
While it is unknown who is going to win, each candidate has a bubbly personality. Be sure to head to the homecoming football game on September 23rd to find out who will be crowned king and queen!