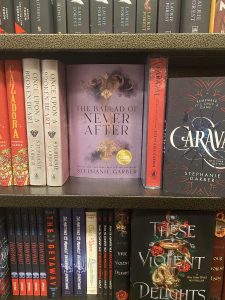 by Brianna Gracia
Bookworms, rejoice. It's prime publishing time in the literature world, as new releases are rapidly coming to the shelves. Readers eagerly pre-order their most anticipated releases, ready to get their hands on the fresh pages. For those who may be on the hunt for a new read, there are a few heavily awaited titles to explore. 
I'm Glad My Mom Died by Jennette McCurdy
From an outsider's perspective, it seems stardom and fame have everything one could wish for. Popularity, riches, and a life of pleasure. But within the bright lights and flashes of the press come internal and external struggles. Jennette McCurdy illuminates this hidden life in her book, I'm Glad My Mom Died, a biography centered around her experience as a child star.  
Though given a comical twist by McCurdy, the book doesn't hold back as readers learn the harsh reality McCurdy underwent, especially during her experience on the set of ICarly. Not only does the book discuss the unfair expectations put on McCurdy by Hollywood, but by her mother as well. 
"For McCurdy, this book isn't just her writing debut," Jenna Ryu from USA Today reviewed. "It's a reckoning with guilt and grief after her mother's premature death. It's healing from multiple eating disorders and processing decades of trauma. It's finally doing what she wants for the first time: not acting. Writing…Healing from trauma looks different for everyone: For McCurdy, writing this memoir symbolized empowerment over her narrative. And understanding that it's OK not to forgive her late mother provided her peace."
I'm Glad My Mom Died deals with several heartbreaking truths, but McCurdy manages to represent the recovery that can come after facing such horrible trauma. 
Lightlark by Alex Aster
For fans of The Hunger Games, expansive world-building, romance, and royal conflict, Lightlark may be just the read to itch your fantasy craving. Heavily hyped on TikTok – specifically BookTok – the title has been mass marketed as Aster's wildly successful debut novel. The book, even before publishing, had already attracted quite a large fan base through Tiktoks and aesthetic reels. 
"Fantasy that reads like a breath of fresh air," said Chloe Gong, author of These Violent Delights. Filled with secrets aplenty and enthralling magic, Lightlark will have you gasping then swooning while these valiant rulers fight to break their curses."
In recent events, controversy has sprung up about the series, saying there are some inconsistencies or red flags within the magical debut. For starters, there are claims that Lightlark, in fact, is not Aster's first book. In 2020, she published the middle-grade novel Emblem Island. There are speculations that Emblem Island did not receive the acclaim Aster was hoping for, but readers are still puzzled as to what the truth is. 
Not only that, but fans who quickly snatched the title off of shelves and loyal readers who pre-ordered the book say that the advertising isn't accurate to the actual product. Tropes and scenes that were said to be included within the story are nowhere to be found. Of course, this could simply be a result of Tiktok advertisements being outdated; manuscripts change from draft to draft, and even in the final edits, may unexpectedly undergo severe last-minute changes. On the other hand, the title may have been inflated via the popular social media platform, and therefore was overhyped under such large attention. 
There's no way to truly judge a book by its cover. The only way to know what's really going on in Lightlark is to give it a read. 
The Ballad of Never After by Stephanie Garber
Potential Spoilers for Once Upon a Broken Heart lurk below. 
Sometimes, love doesn't end happily ever after. The Ballad of Never After follows its predecessor, Once Upon a Broken Heart.
For those unfamiliar with the first book, Once Upon a Broken Heart follows MC Evangeline Fox on her quest for happily ever after. When the love of her life is to be wed to another, her aching heart is desperate to change fate. This is when the wicked Prince of Hearts comes into her life, promising to grant her wish in exchange for three kisses. Evangeline obliges, but soon realizes she's playing a game with a price too high to pay.  
The Ballad of Never After throws Evangeline back into the arms of the Prince of Hearts when a murderous curse is revealed. The two must partner up, even after the Prince's previous betrayal, as he seems to be the only one she can trust. A new danger lurks in the shadows, playing with Evangeline's head and heart, causing her to question all she knows. 
"Once Upon a Broken Heart confirms that Stephanie Garber is the queen of fairy tales," said Mary E. Pearson, author of Dance of Thieves. "I stepped into her world and got happily lost in the delicious magic, deceit, and passion."
Make sure to grab a box of tissues and some chocolate with this read. The Ballad of Never After is sure to warm the hearts of hopeless romantics and the most stoic of readers. 
It Starts with Us – Colleen Hoover 
This contains spoilers for It Ends with Us. 
Another well-awaited follow-up to a popular book, It Starts with Us actually is told in the POV of the fan favorite, Atlas. The book is a sequel to the heart-wrenching rollercoaster, It Ends with Us. The first book followed the main character, Lily, as she falls head over heels for a neurosurgeon named Ryle Kincaid. Just when things begin to feel just right, a familiar flame appears – Atlas Corrigan, and her heart is suddenly flipped upside down. 
It Starts with Us will pick up where its predecessor left off. Lily and Ryle are now finding themselves settling into co-parenting life, now split. Once again waltzing into her life is Atlas, and this time, Lily is eager to say yes to a first date. One heartfelt decision, though, can lead to a whirlwind of consequences and difficult choices and both Lily and Atlas find themselves hurdled into the minefield that is a second chance at love. 
"Through palpable tension balanced with glimmers of hope, Hoover beautifully captures the heartbreak and joy of starting over," Kirkus Reviews said. 
This bookish find is not available to the public just yet, but It Starts with Us will release on October 18, 2022. 
Don't miss out on these new releases. Whether readers are fans of fantasy and romance, are in need of a good cry, or prefer something a little more cynical and witty, there's no doubt there's a book just for them.