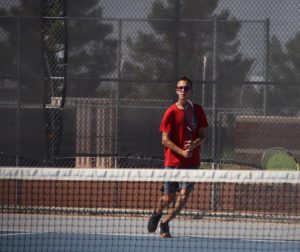 Varsity Tennis
by Logan Harms
On Monday, October 3rd, the Coronado Cougar's (10-1) varsity tennis team played The Meadows School (10-2). The women's team won 14-4, and the men's team won 16-2. 
"To prepare for this game we all warm up as a team and we get each other ready both physically and mentally."  junior Natalie Petterson said. "We also try and find out things about the other team. These pre-game rituals are really effective for us." 
The tennis team has had a strong season, winning ten out of their eleven games. They're very experienced, even when going up against a good team like Meadows, they know how to stay calm and collected. 
"I definitely think we can keep our momentum going for when we play Faith and when we go to regionals,"  Petterson said. "We have had a very good year so far and I definitely think we can continue it."
Make sure to watch the Cougars take on Faith Lutheran on Thursday, October 6th at 4:00 pm at Faith Lutheran. 
Men's varsity soccer
by Jordyn Tribus 
Coronado Men's varsity soccer played an intense game against Eldorado on Monday, October 3rd, 2022. The possession remained equal throughout the game which was reflected in the end score; 2-2. The overall physicality and mental perseverance played a big role in this game since Coronado was missing 3 of their main starters. 
"We have had a lot of games back to back, so lots of players were tired," senior Jaxson Findlay said. "I think this played a big part in the game from start to finish."
In the first half, Coronado dominated the speed of play by staying on top of the ball and putting up more shots than Eldorado. Coronado was able to break down Eldorado's midfield and by the end of the half, the score was tied, 1-1.
Once the second half started, the Coronado team felt the pressure and aggressiveness from Eldorado. Eldorado was able to slot one in early in the second half and had Coronado chasing for a win. Coronado was able to finish an opportunity, catching up to Eldorado for a tie game of 2-2.  
"We were able to stay in the game and ended up tying," senior Anthony Sena said. "Ryder and I both scored to give us the tie against one of the better high school teams."
Coronado will face Canyon Springs on home turf Thursday, October 6, at 4:30 pm for a chance to redeem their winning streak.
Women's varsity volleyball
by Ienka Santos
On Monday, October 3rd, the Coronado Varsity Women's Volleyball team went up against Centennial High School, winning with another 3-0 sweep.
"The game was more frustrating than we thought it was going to be," junior Abigail Paulson said. "It made us work pretty hard on what we've been focusing on during practice, and that's what allowed us to win.
The game started off strong with Coronado taking the win in the first set with a score of 25-12. The second set however was quite a close set with the set score being 25-23. No matter, because Coronado pulled through and took the final set with a final score of 25-18, truly an outstanding victory. 
Our Varsity Volleyball team used their stupendous teamwork in order to take the win from Centennial. Their trust in one another remains unmatched.
"We did a really good job coming together as a team overall," Paulson said "and that's what led to our success." 
Make sure to catch Coronado's Varsity Women's Volleyball team competing on Friday & Saturday, October 7-8 in the Southern California Invitational in San Diego, Califorina.