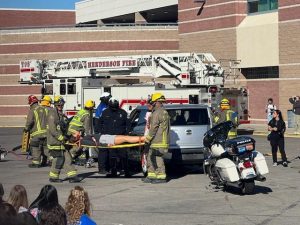 by Aubree Gearhart
On October 6th and 7th, the educational program known as Every Fifteen Minutes which is hosted by the Henderson Police Department took place at Coronado. The purpose of Every Fifteen Minutes is to bring awareness to the sheer amounts of people that are affected by impaired driving and how easy it is to absolutely destroy your life by making one wrong choice. 
The first day of the event consisted of the mock crash which took place in the bus parking lot. Although the crash was in fact fake, for some students it felt very real as they were taken through the truth behind and during a DUI crash. 
"During my experience of Every Fifteen Minutes, it truly left an impact on my family and me," senior Autumn Viscardo said. "This also made me change the way that I look at driving and how I look at life in general. Something so simple as life can be taken away from us at any moment. Having gone through what I went through I learned how important it is to be careful and responsible when driving. If you need a ride, please call a family member. It is so important to stay off your phone and pay attention to the road. Having the ability to drive is a privilege and you are driving a weapon. I hope nobody I know has to see what I saw during this. Going to jail really made me see a lot of truth and things I want nobody to see. I have gone through a lot of emotions. It is important to remember when driving your friends around that they have a mom, a dad, and siblings, and remember they have people that love them just like you do. I never want to have to see a family experience this pain. My heart goes out to any family that has had this happen to them and lost a family member to impaired driving. Please be careful and always tell people you love them."
In the mock crash, Viscardo portrayed the impaired driver in the situation and survived. She experienced what every other offender would. She was booked into jail, got her blood tested, and attended a trial for her crimes. Viscardo was ultimately charged with two counts of driving under the influence of alcohol causing death and one count of driving under the influence of alcohol causing substantial bodily harm. Viscardo plead guilty to all counts and was served with a 60-year sentence. She would be released when she was 78 years old. Viscardo stresses that her experience was traumatizing and wishes no one has to endure the pain impaired driving causes.
"The experience was extremely impactful for me," junior Jordan Parker said. "I learned a lot about the impacts of choosing to drive under the influence and just how many people's lives this can affect. I loved learning about it with all my friends. Giving the speech felt very real to me and was a great opportunity to think about what it would be like if I or someone close to me died." 
During the second day of Every Fifteen Minutes Jordan Parker along with Coronado faculty, victims of impaired driving, and Henderson County Policemen gave speeches about impaired driving. The mother of one of these tragic accidents shared her son's story about how his life was taken by an impaired driver in hopes to spread awareness about the reality of driving under the influence. 
"It was a life-changing experience," senior Daphne Egelhoff said. "Coming out of it, I've tried to appreciate everyone in my life and tell them how much I love them. You never know how quickly things can change. I've also been emphasizing the importance of the decisions you make to all of your friends because you never know how many lives you can destroy with one poor decision. If you can't do it yourself, do it for everyone else who will be affected."