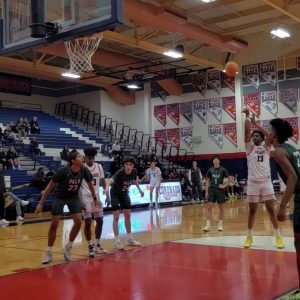 Men's Basketball 
by Aubree Gearhart
On Tuesday, January 10, the Coronado men's basketball team took on the Palo Verde Panthers. At the end of the game, the Cougars came out victorious, the final score being 80-62. Senior Tee Bartlett (#13) scored several slam dunks on the Panthers. 
"As a collective unit we played well overall, with room to improve," senior Blake Sullivan (#3) said. "It was very exciting playing in front of our home crowd for the first time this season. We will continue to get better and play as a team for one another and separate ourselves from the opposing teams in Las Vegas. This was a great first win for our Cougars." 
During this game when the Panthers scored the Cougars followed them up with a score or multiple scores countering the Pathers' plays. As the Cougars won their first game they will take this momentum into future games. 
The Cougars will next take on the Faith Lutheran Crusaders Tuesday, January 17th. Go to Faith Lutheran High School to support your Cougars.
Flag Football
by Addison Stanton
On Tuesday, January 10, the Coronado Flag Football team took on the Bonanza Bengals. During the rainy, cold, and breezy night, the Cougars pulled through, winning the game 18-13. 
With spirits high, the Cougars lined up against the Bengals. With many interceptions, the Cougars had plenty of time on the offensive side. Not to forget, the work put in by junior quarterback Mia Howser. Howser even directly contributed to the score by sprinting past all of the Bengals to score a touchdown. 
"We finally won," sophomore Sinai Carter said. "I am very proud of the team and happy that we pulled through."
Toward the end of the game, Bonanza began to get chippy which was followed by personal foul calls and a loss in yardage. The Cougars held their lead throughout the game and finished with an 18-13 win. It is evident that the effort put in by the Cougars was what really assisted them in getting the win.
You can find the Cougars line up against the Bishop Gorman Gaels on Thursday, January 11th, at Bishop Gorman High School at 4:30 pm.
Bowling into the New Year
by Brianna Gracia
Coronado's Varsity and Junior Varsity teams took on Palo Verde in a bowling match Monday, Jan. 9 at the Orleans bowling alley. The womens' teams fared well with a total score of 1488, striking out Palo Verde. However, the men's team fell 14 points short. 
Coming back from winter break, both teams agree the two-week hiatus has left them a little rusty. As they are starting back up, the players believe they are getting back into the swing of things, and it won't be long until they are in tip-top shape. 
"It was a really close game," said Jack Landy, 12. "We are improving a lot more compared to last week. Everyone is starting to warm back up and get their heads back in the game." 
The girls, victorious, know there are a few key things that set them apart from their opponents. In bowling, players tend to have different styles – and diversity is key to keeping players on their toes. 
"The way certain bowlers have straight bowls," said Anastasia Dragulescu, 9. "Some players, like me, have curved bowls, which really creates variety in our plays." 
With more games on the horizon, the teams know they have things to improve on. Though very strong, they are humbled, and have the perseverance to work hard and develop their skills.

"One thing we really struggled on against Palo Verde was keeping endurance and consistency," said Landy. "We started strong in the first game. But when it came to the second game, our determination seemed to fall, and we played really loose. Come the third game, we picked it back up, but we can't let that happen again. I know we can do it." 
Despite the rough game, Coronado's bowling teams pride themselves on their can-do attitude. A good game only comes with a good mindset. 
"We tend to be very positive," Landy said. "Even when we screw up, we keep up the attitude and I think it really helps us keep our motivation high." 
Come support Coronado's bowling teams in their next game Wednesday, Jan. 11 against Spring Valley at the Suncoast bowling alley.
Varsity Wrestling
by Talia Medina
Coronado's varsity wrestling team had an away game on Tuesday, January 10th, at Legacy High School. The Cougars took on Legacy and Canyon Springs and although the match was intense, the scores were 51-24 for the Legacy match and 66-6 for the Canyon Springs match. 
"Overall, the match felt really good," said senior Christian Mauthe. "It took a minute to feel things out, but it was definitely one of the better matches of the season so far." 
Since the meet was against two different teams it may have seemed as though this would be a very stressful match. However, the Cougars were able to keep their spirits up and their heads held high continuing to have ambition. Since the season has begun, many of the wrestlers have made goals for themselves for this season.
"My goal for this season is to get more aggressive," said sophomore Kaela Barrientos. "I want to shoot more often and use more techniques that we've learned and my coaches are always telling me to do that and I think that I'm getting better at it." 
Coronado's Varsity wrestling team will get ready to show off their skills once again at Bonanza High School on January 14th, at 7 am.