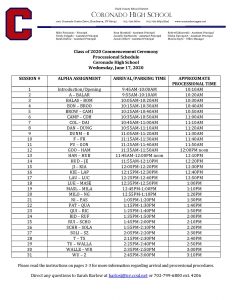 SENIORS AND GUESTS,
We are so excited to have planned a hybrid commencement ceremony to celebrate your accomplishments and recognize this culmination of your formative educational experiences from K-12.  Please use the alph schedule above to plan on your part in the processional for you and your four (4) guests.  The entire processional will be live-streamed at 10:00am by clicking on our link on www.coronadocougars.net.  It will also be available via FB Live and YouTube Live from our Coronado HS accounts.  We encourage all Coronado family, friends, and community to enjoy the day virtually.
The following safety recommendations are for all seniors and guests to review and consider when participating in this event:
Seniors/Guests who have exposure to COVID positive patients in the past two weeks are not to participate.
All seniors/guests are encouraged to wear their own masks to reduce exposure to one another and staff.
Hand sanitizer will be available upon entry to the school by all seniors/guests and encouraged for all to use.
All groups will maintain a 6ft. social distance from one another throughout the processional.
Loitering and gathering prior to and after the assigned processional time is not allowed.
Guests should wait in cars for direction from staff ushers in order to avoid the high temperatures outside.
ARRIVAL
Please enter the parking through the 1001 Coronado entrance BY THE TENNIS COURTS; from there you will be directed to a parking lane dependent upon your session #.
To assist parking attendant staff, please arrive in one vehicle (when possible) with the senior, and place a sheet of paper in the front passenger windshield with the assigned alpha session number.
Follow the parking directions by staff attendants to help ease the burden of traffic for entering and exiting the property.
Remain in your vehicle until staff ushers invite your group to proceed to the performing arts entrance ramp.
Please let an usher know if you have a guest who will need ADA accommodations; those seniors/guests will be led to a separate entrance for ease of entry.
PROCESSIONAL
While maintaining 6 ft. social distance, seniors will pick up their own name card upon entering the band room.
A guided route will take the senior/guests through the processional.
Once in the theatre, students will prepare to walk across the stage to pick up their diploma (cover) and pose for a professional photo while onstage with Mr. Piccininni.
Guests will step down to the audience are of the stage and cross prior to the student's name being read to allow for personal photos/video.
Parties will reunite prior to entering the theatre lobby where students will receive a commemorative graduation program AND their diploma (in an envelope to be placed in the already-picked-up cover).
Honor cords not already paid for will be collected by staff prior to the diploma distribution. [Honor cords for GPA – all white or all gold – can be paid for online at the webstore; contact ballaib@nv.ccsd.net if you have issues logging in to pay for those cords BEFORE June 17, 2020.]
The entire party will pose for a professional photo of the group.
Senior/guests will exit into the theatre quad area where Herff Jones rental gowns will be removed for return.
Senior/guests will return to their vehicle and immediately exit to make way for the next session.
FAQs
Q:           Can I bring any more than the four guests?
A:            No.  ALL seniors are permitted only four (4) guests; this is non-negotiable in order to be able to keep in compliance with CCSD regulations and to be able to celebrate the 800 seniors who will be participating.  While we understand that means difficult decisions on who can be actually present, we appreciate – in advance – the strict adherence to this policy.
Q:           What should I wear?
A:            Seniors are permitted to wear school-provided regalia only.  All attire should follow the CCSD dress code guidelines and include comfortable shoes for the processional.  Only Herff Jones caps/gowns/tassels are permitted and additional decoration (leis, hats, floaties, medals, decorated caps) are not permitted per CCSD graduation guidelines.
Q:           How can other people participate in the processional if they can't actually be my guest?
A:            Please encourage all to log in to the live stream of the events at www.coronadocougars.net and on Coronado HS's FB Live and YouTube Live.  It will be recommended that you communicate with your audience from home when you are assigned to arrive/walk in order to help narrow down your particular live-stream time.
Q:           How can I hear the speeches/music/etc. that we would have at a traditional ceremony?
A:            All program components will be part of the live-stream prior to the 10:00am processional ceremony.  The speeches/music/etc. will also be posted separately on Tuesday evening for those who'd like to watch them before Wednesday's events.
Q:           How can I see my friends walk across the stage?
A:            Please refer to page 1 where the schedule is attached; in some cases where students need special accommodations, their times have been changed, so just ask them what session they've been assigned so you can tune in to the live-stream.
Q:           What if I am not participating and need to return my gown?
A:            Students not participating should make arrangements with Herff Jones (702)396-4723 to return the gown.  All students are to keep their tassel and cap.  A fee of $300.00 is assessed for all gowns not returned.
Q:           What if I am not participating and want my diploma?
A:            Staff will be available for diploma pick up at 9:00AM – 10:00AM on Thursday, June 18, 2020.  After that date and depending on the re-opening plan, diplomas will be available from the front office.  Unclaimed diplomas as of December 2020 will be mailed to the last known address in Infinite Campus.
Q:           What if I still don't have my cap and gown?
A:            If you ordered prior to Friday, June 12, 2020 Herff Jones is working to provide all the regalia prior to the ceremony.  Coronado administrators are taking regular trips to their office to ease the burden of driving across town to the HJ office, but concerns can be made to them directly: (702)396-4723.  As soon as Coronado is in possession of the items ordered, we are sending a Parentlink text for pick-up at 9:00am on Monday, June 15th or Tuesday, June 16th at the front of the school. If you need additional arrangements, please email barlosj@nv.ccsd.net.
If you did not order by the deadline, you can contact Herff Jones to see what the likelihood is of getting your cap/gown/tassel prior to the ceremony; again, ALL participating students in the processional must be in the approved regalia.