CougarFIT
CougarFIT is HERE!
August 8, 2019 from NOON – 5:00pm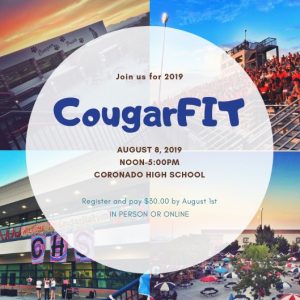 There is a $30 fee for this event due to the Coronado High School banker on or before August 1, 2019
(You may MAIL a check made payable to Coronado High School with student ID and name written in the memo line to 1001 Coronado Center Drive. Henderson, NV 89052 Attn: School Banker OR pay in person on site.  Sorry, we do not have the capacity to accept payments via cards).  If students do not attend CougarFIT after registering and paying, we cannot issue a refund.  School banking hours are M-F from 7:30am-12:30pm during the summer.