Family & Community Engagement Resources and Links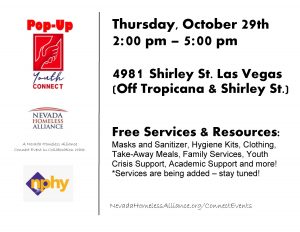 F.A.C.E.S Community Resources – 
http://faces.ccsd.net/wp-content/uploads/2020/06/Master-Resource-6.22.20.pdf.
Covid-19 Testing Sites –
http://www.southern nevada health district.org/covid-19-testing-sites/
Distance Education Parent Training Videos – (available in English and Spanish)
 https://www.youtube.com/playlist?list=PL2wPxD7KJisGXXio__GOryc6dP4Ly5qno
Student Tech Support and Password Reset – (link will allow students to reset passwords)
Wi-Fi Partners: CCSD has established Wi-Fi Partners and created a Free Wi-Fi Directory for students. This online directory provides a list and interactive map of free Wi-Fi hotspots available for student use, sponsored by organizations and businesses in the Greater Las Vegas area.
http://ccsd.net/district/mobile-device-initiatives/wifi-partners-list.html
CCSD Food Sites (children 18 and under) –
https://sites.google.com/nv.ccsd.net/distanceeducation/ccsd-resources/food-distribution-information/ccsd-food-service
Three Square Drive-through Food Bank –
More Links: