By Hailey Krantz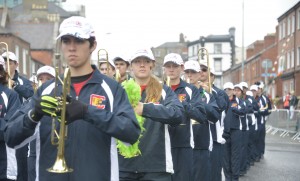 The Cougar Pride marching band traveled to Dublin, Ireland on March 13 to perform in the Saint Patrick's Day parade on March 17. Invited by the Outreach Program Manager of the parade, the band performed with other bands from throughout the world.
"We have been going to early bird every Thursday and Friday for the past month to prepare for the narrow streets of Dublin," William Wright, sophomore, said.
In order to go students fundraised in the summer by selling fireworks around the fourth of July and during the school year they sold chocolate bars and held a silent auction.
Besides marching in the parade, students went to many historical sights including a castle in Malahide, the Wicklow Mountains to see the Round Tower, St. Kevin's Cross, and the National Museum of Ireland.
"I'm most excited to experience their culture. We get to see the historic parts in museums and interact with the people while touring the modern society during their day to day life," Anna White, sophomore, said.
The marching band will not only be representing Coronado, but also Nevada and the United States.
"I think we are extremely prepared. We have been working hard, and I think we will represent Coronado very well," Wright said.
The band returns home on March 18.