By Lexi Lane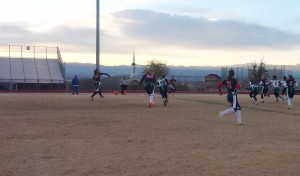 Running up and down the football field in the freezing cold, the women's varsity flag football team showed serious dedication and played an amazing game that had the audience cheering from the stands. The team beat Green Valley 24-13.
In the first half, Heaven Lucero, senior, broke up several of the Gators' passes, and completed a pass to Trinity Rhoades, junior, which led to a touchdown, allowing the Cougars to take the lead 6-0.
"It feels great to be able to throw a complete pass for a touchdown, but it feels even better to lead the team to a victory," Lucero said. "Every time I throw a touchdown, I think about what I can do next time to get the exact same result. Not to mention I've got some great athletes as receivers and great blockers to give me time so they always help make good things happen."
Green Valley's Izzy Madrid, 10, scored  a touchdown, adding seven points to the Gators' score, after scoring a touchdown and a one point conversion. However, another pass to Alex Hondo, senior, brought the Cougars' score at the end to 12-7.
In the second half, Rhoades scored another touchdown, giving Coronado the lead 18-7. Sophomore Bianca Barin also made a tackle, and Green Valley's touchdown brought the score to 18-13
Coronado scored a final touchdown to bring the score to 24-13, earning the varsity flag football team another win.
The girls' next game will be Monday, Feb. 8 against Eldorado. The last home game of the season is Wednesday, Feb. 10 against Basic High School at 4:30 p.m.