By Sage Tippie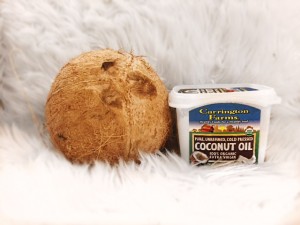 Coconut oil may sound like something you line a pan with, but in reality, it has many more uses. This do-it-all ingredient can be used to moisturize skin and remove makeup, and that's just the beginning. Here are some ways to incorporate coconut oil into your daily routine.
Hair mask
While in the shower, melt the solid coconut oil by running the jar under warm water. Then, after shampooing, apply a generous amount of the oil to wet strands. Let it sit for at least five minutes before rinsing to add moisture and shine back into dull strands. This works wonders on all hair types but is especially great for curly or thick locks.
Makeup remover
Let's face it, makeup wipes are overpriced and overrated, especially when just a teaspoon of coconut oil can take off a day's worth of makeup with ease; even waterproof mascara doesn't stand a chance. Massage a bit of liquified coconut oil straight onto skin then rinse with warm water.
Oil pulling
Oil pulling is a practice in which you swish a spoonful of oil around the mouth for 10 minutes and then spit it out. This is a huge trend right now, and coconut oil is perfect to use for it. This removes toxins and plaque,resulting in increased gum and teeth health, as well as whitening.
Eye cream
The skin under the eyes is thin and delicate, which makes it prone to puffiness and dark circles. Instead of dropping big bucks for expensive eye cream, just use a bit of coconut oil to eliminate dark circles, and dispel bags under the eyes.
Lotion
Coconut oil's creamy texture makes it the perfect light moisturizer. Apply a quarter sized amount after getting out of the shower so it can sink into the skin easier. The light tropical scent lingers after it is applied, and it won't leave the skin feeling greasy or suffocated, which makes it the perfect choice as the weather warms up.
Frizz fighter
Rub a small amount of coconut oil between the fingers to warm it up, and then apply it to the bottom couple inches of hair to banish frizz all day. People with thicker or curlier hair can use more if needed, but focus on the bottom half of the hair, or the hair could end up looking greasy.
Body scrub
Simply mix salt or raw sugar with an equal amount of coconut oil, and BAM you have a DIY body scrub. Rub it all over during the shower, focusing on dry spots like the elbows or heels. The result will be baby smooth skin caused by a simple body scrub that won't break the bank.
It's not often you find a five-star product on a three-star budget. Minimize your spending by investing in coconut oil, the original multi-use must have. As summer approaches, put your money towards gas for road trips or a new bathing suit.