By Emerald Green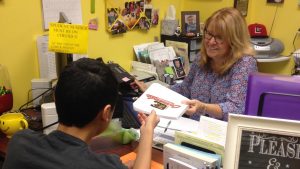 Coronado's mandatory agenda policy in place for the past 15 years has changed to keep up with the times. Administration initially offered planners only to freshmen to keep the number ordered to a minimum.
Last year, the school threw away six full boxes of agendas. The policy had been to require all students to purchase agendas to have for hall passes. The hall pass policy has since changed, and many students use the calendars in their phones for agendas. Administration decided to order enough agendas for the freshmen, and any planners not purchased by Sept. 6 are now available for upperclassmen.
"What it came down to was a very expensive hall pass," Ms. Harper, assistant principal over AP Academy and testing, said.
Harper also said that they don't know whether they are going to sell them like this next year yet.
"Maybe we'll decide that a thousand wasn't enough, and we can get 1,500, but what we don't want to do is do what we've done in the past and throw thousands and thousands of dollars away because you can't reuse them," Harper added.
Katie Lim, freshmen and AP Academy member, received her agenda three days before school started, for free, at the AP Academy orientation.
"Only half of my (freshmen) friends are actually planning on using school agendas. Some are using their own agendas, and some are just using their phones," Lim said.
Shay Mentley, sophomore, went four days without an agenda before she found out that she would not be able to buy one. She bought her agenda on the fifth day of school at Target for more than double the price of the school agenda.
"It has put a lot of kids in a stressful situation because they have to go out and purchase something that they thought that the school would provide. If you can't go shopping the first day of school, it leaves you unorganized until you can. It is unfair that freshmen get sold agendas, and we don't. The layout is something that I'm used to, and I know exactly how it's going to work for me. It's wrong to assume that (as upperclassmen) we have everything under control because we don't," Mentley said.
Lim admits that she would feel less organized if she was not sold an agenda next year.
"Agendas help me plan my homework and test dates. They encourage students to plan, organize their classes, and help them get better grades," Lim said.
There are a limited number of agendas still available for purchase on a first come, first served basis. They are $5 at the banker's office until they sell out.