By Emerald Green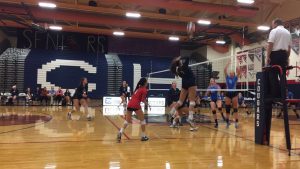 Women's varsity volleyball (League 4:3) squashed Basic (League 0:7) 25:16 Tuesday, Oct. 18 from 6-8 p.m. at home.
"Basic is in our league, so winning over Basic determines our position for playoffs," Coach Johnson said.
Basic started off strong scoring the first three points in the first set. After a time-out, Basic was leading 18 to 12, later winning the first set 25:18.
"Tonight was a good challenge to test our team strength. I was surprised when Basic won the first set because I was surprised that we let it get that far without putting up a better fight," Zoe Lier, senior, said.
Cougars answered by scoring the first point of the second set. The audience was tense during the long volleys, but were respectful when Basic's Serenity Lomprey sprained her ankle in the middle of the set. This did not distract the Cougs from changing the game with a second set win 25:22.
Lier and Amanda Taibi, junior, stuff-blocked an outside hit from Basic, helping the team come back even stronger as they scored the first eight points of the third set. The Cougars led with more than three times the score, 16:5, after the first time-out, eventually crushing the third set 25:9.
"As the match went on we started playing more like a team," Taibi said.
Cougars finished the game 25-16 to conquer Basic.