By Emerald Green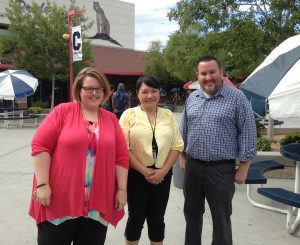 Seven new teachers have joined the cougar staff this year.  Ms. Keehu, Mrs. Clamp, Mr. Bowler, Mr. Underwood, Mrs. Taylor, Ms. Moss, and Ms. Rush are all first-year members of the faculty.
Ms. Keehu
Hokunani Keehu teaches chemistry in room 909. She was born in Thailand and grew up in Vegas.  She lived in Japan and Italy.  Ms. Keehu has been teaching in the district for three years. Before that, she taught in Thailand and Korea.
Her most memorable teaching moment was in Thailand.
"When I was teaching ninth graders in Thailand, they sang me a song, and drew pictures of each individual student on a big poster when I left.  When I came back, they bought me this really big heart," Keehu said.
She has a Bachelor's of Science degree in chemistry with a concentration in biological sciences from UNLV and experience in cancer research. In grad school, Keehu worked with HSP 27, an overexpressed protein found in breast cancer.  She also volunteered at the Centro di Riferimento Oncologico di Aviano in Italy, working with the same protein. Ms. Keehu is passionate about science, education and law.  She admits that her faith is very important to her and believes in treating people the way that she wants to be treated..
Mrs. Clamp
Cheryl Clamp teaches Special Education. She describes her teaching style as "relaxed and funny." Clamp and her husband moved here two years ago from Denver after twenty years of teaching there.  At first, she wasn't working, but she was bored sitting at home. She became a substitute teacher and eventually starting teaching full-time again.
"I like Coronado very much due to the amount of smiling students and supportive staff," Mrs. Clamp said.
When she wasn't teaching, she raised show dogs as a hobby. Ms. Clamp used to raise Lhasa Apsos and even sent a dog to Finland, who later became an international champion.
Mr. Bowler
Charles Bowler teaches English in portable 17 and describes his teaching style as "fairly laid back." He was born and raised in Las Vegas. He is married with three kids. Mr. Bowler loves cats, listens to metal, jazz, classical, and electronic music, and lives in the now. This is his fifth year in the district and came here from Foothill.  
Mr. Bowler's students describe him as outgoing, happy, and upbeat.
"He [Mr. Bowler] tells us a lot of funny stories that have happened to him," Amelia Kirby, freshman, said. She suggests asking Bowler to share his chimpanzee story.
"I expect a lot, but I try to respect the kids. I want everybody to feel comfortable in my classroom, for it to be a place they feel safe in. I just love that moment when something clicks in a kid's head– when they go from not getting it to getting it. It makes it all worthwhile," Bowler said, and he admits that he tells his funny stories to make his students feel more comfortable in his classroom.
Mr. Underwood
Scott Underwood teaches computer programming in room 315. He describes his teaching style as "socratic" because he likes his students to discuss. It is his first year teaching and living in Clark County; he only moved here one month ago.
"The kids are really good, except after lunch. They get a little hyper, but they're still good kids," Mr. Underwood said.
His favorite teaching memory was just a couple of weeks ago. He was doing a lesson on numbering systems which he shared with another teacher.  The teacher told him that the lesson worked well.
"I was excited about that. I'm going to remember that one for a long time,"  Mr. Underwood said.
Mr. Underwood also claims that experience is the best teacher.
"He doesn't do the simplistic basics. He makes it comprehensive and fulfilling so that we know everything we need to know in order to be successful in the future. It may be tough at times, but he knows what he's doing," Christopher Aumont, senior, said.
Mrs. Taylor
Ann Taylor teaches culinary in room 302. She has lived and taught in Clark County for 16 years. She is looking forward to seeing former students excel with their own restaurants this year and culinary Nationals. But before they can go to Nationals, they have to win state on January 28.
"Mrs. Taylor has a lot of culinary awards and was on the show 'Guy's Grocery Games.' She got second place," Braeden Ewing, junior, said.
Mrs. Taylor loves her family and admits that they are everything to her. She even goes so far as to claim that her husband is the cutest man on the planet.
"The music coming from my iPod at the beginning of class is different everyday. The students come in every day questioning whether that good music is coming from my iPod," Taylor said.
Ms. Moss
Chelsea Moss teaches AP English Language and Composition, Pre-AP English 10 Honors, and advises the National English Honor Society on Fridays in room 210. She has been teaching in the district for 15 years.  She moved here from Utah in 1999 and has a six-year old daughter, Amelia.
Ms. Moss admits that her mother was a big factor in her becoming a teacher.
"I have never said that [I wanted to be a teacher,] but I had an idea that I would like it. My parents were both teachers at one point, but my dad taught for three years and then quit. I was more like my dad when I was a teenager, and he said that I wouldn't like it [teaching.] As I grew up, I became more and more like my mom– more personable. I did every other major before education, but I knew that I did not want to teach elementary just from helping my mom in her classroom," Moss said.
Dawson Owens, sophomore, had Ms. Moss' mother, Mrs. Moss, in elementary school.
"I was shocked when I found out that she [Ms. Moss] was Mrs. Moss' daughter, but they were a lot alike, so it made sense. They are both really creative and fun to be around.  I feel more connected to her which makes me more comfortable around her," Owens said.
Moss likes to focus on social issues in her classroom and what students can do to make a difference. A few years ago, she created a unit centered around an animal rights activist who took over a zoo that had been abandoned due to war in Baghdad. The students read about this man and researched about animal rights.
The students entered a national writing contest focused on the issues. Two out of the four winners were from Ms. Moss' class. Her students won money, internships, and a trip to Africa to visit an elephant rehabilitation sanctuary.
"I was proud of my students for being so engaged in this unit and for bringing awareness to their fellow classmates, parents, and community," Ms. Moss said.
Ms. Rush
Christine Rush celebrates her tenth year with CCSD. She is from Washington State but has lived here since 2004.  She is very close with her four daughters. Rush has taught Government, Legal Debate and Mock Trial, Civil and Criminal Law, AP Human Geography, and now AP World History in portable 2. Ms. Rush's goal this year is to know more about her 180 students than their names.
"I really appreciate her effort and how she is trying to bridge the gap between teachers and students," Woodrow Oris, sophomore, said.
Ms. Rush went on to describe Coronado as Shangri La, a mystical, harmonious valley; synonymous with earthly paradise; happy land isolated from the outside world.
"I have never worked at a place that everyone I've met has been so kind to me– every staff member, and each kid is nice, helpful, and eager to learn," Ms. Rush said.
She loves any song that has been beautifully executed, and is currently taking guitar lessons.
"I love music. I live for music. I spend my summers camping and going to musical festivals," Ms. Rush said.
Ms. Rush doesn't try to change people or their opinions.
"If they accept me, I'll accept them. You do you. I'll do me, and all will be well," Ms. Rush said.