By Sage Tippie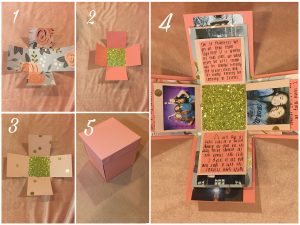 Along with the oversized teddies and roses, Valentine's Day season comes with an abundance of concerns, from wondering if someone will like a gift to pondering how to scrape enough money together for one. Tackle all these concerns with an Exploding Box. This gift commemorates memories made with a loved one but won't break the bank.
Materials:
four pieces of 12×12 thick paper or cardstock

your favorite pictures with the person printed out and memories written down

one pencil

ruler

scissors

glue
Directions:
With the ruler, measure and mark the paper every 4". Connect the marks that are parallel to each other with straight lines.

Cut off the four corners so that a "plus sign" shape is remaining.

Fold the paper along the lines to create four walls; completing the outer layer.

For the middle layer, complete the above steps again, but trim the paper to 10.5" x 10.5", marking the paper at every

3.5".

Glue the bottom of the middle layer to the bottom of the  outer layer.

For the innermost layer, complete steps one through four again but trim the paper to

9"

x 9" paper, marking it every 3". Glue the bottom of the innermost layer to the bottom of the middle layer.

For the lid, trim the paper to a little over 6" x

6" and leave a one inch border around all four sides of the paper. Starting at the lower right corner of your paper, cut the vertical line up to the horizontal line so that there is a little flap. Turn the paper 90 degrees and continue 

to every corner until there are four flaps.

Fold the paper along the inner border to create the sides of your lid. Glue the flaps to the sides and the lid is completed

Lastly add photos and memories. Glue photos and stories onto the layers of the box. Add ribbons or stickers to further customize this unique collection of memories.
Now that it's finished, the Exploding Box has earned its name, overflowing with memories and carefully picked photos. Share this customized photo album with any loved one; it's sure to make a blast.  
Idea via: content.photojojo.com