By Lexi Lane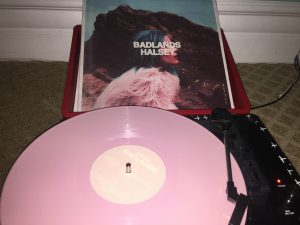 Vinyl records have been around for over a century, but sales continue to grow. How, with the rise of technology and music available digitally, is this music format still keeping record stores in business? Through appealing to all generations with new creations, sales continue to rise.
According to Consequence of Sound, BuzzAngle conducted a study on music consumption in the U.S., and found that physical CD album sales declined 11.7% in 2015, while in 2016 actual vinyl record sales rose 25.9%. The recent death of famous names, including David Bowie and Prince, boosted the sales of their albums post-mortem as well as icons who passed away a while back, such as Amy Winehouse, whose album "Back to Black" was the second best-selling record of 2015.
This format of listening to music is drawing a new generation of teenagers and adults in, despite being around for decades. They are easy to purchase with designated sections in stores like Urban Outfitters and Barnes and Noble. Actual record stores have also gained appeal since it provides an activity, and with the rise of social media, some people even go to take pictures in their free time.
Sites and stores like F.Y.E, Newbury Comics, and Discogs – boost vinyl love by creating "exclusive" records from popular artists that are only available for purchase at their stores for a limited time. These records feature unique color designs outside of the basic black or a heavier weight (180 gram) to make the sound clearer. The price range for these special-edition records typically is not different from the standard edition.
Typical records cost between $15-$30; however, depending on the place and popularity, prices can be higher. The cost of a record is not much off from a CD purchase. It is also easier to find and purchase a place to play records than to play a CD. Most newer model cars and computers lack CD players, but turntables are sold at most local stores for around $100.
Finally, the annual Record Store Day, held on Saturday, April 22, is another way that promotes vinyl. On the set day, local record stores carry special rare pressings that are available for purchase on that day only. People camp out for hours in bigger cities just to pick up ones they are looking for; this ranges from new colored pressings or rereleases from old bands and demos.
Even Jack White, frontman of the White Stripes and solo artist, is finding new ways to play with records – from putting a hologram able to be seen with a phone flashlight to playing the record backwards to putting two different intros to a song that merge all in one record. He also made a record for the first person to play a record in space, making him dubbed in media as the "Willy Wonka of records."  
Vinyl records have a lot of appea. Bands and artists are releasing colored records now more than ever.